Almost every firearms hobbyist has owned or at least fired a 1911. But how many of us have built one?
What used to require complex machining and a gunsmith to fit together, can now be done at home by anyone brave enough to try – thanks to 80% frames and kits.
Here we'll give you a comparison of three popular 1911 80% products from Stealth Arms, 1911 Builders, and Tactical Machining.  Everything from pricing to difficulty, calibers, frame materials, and more.  We'll start with a comparison chart before diving deeper into each company's offerings.
Need the quick picks? Here is the rundown:
Comparison Chart
| Company | Stealth Arms | 1911 Builders | Tactical Machining |
| --- | --- | --- | --- |
| Calibers | .45 ACP | .45 ACP, 9mm | .45 ACP |
| Frame Material | 7075 Aluminum | 4140 Steel, 416R Stainless, 7075 Aluminum | 4140 Steel |
| Frame Sizes | Government (5"), Commander (4.25") | Government (5"), Commander (4.25"), Officer (3" & 3.5") | Government (5") |
| Finishing Notes | Can use Phantom Jig to cut rails without a milling machine | Can use hand cutter jig to cut rails without milling machine. Steel and stainless frames require decking. | Can possibly use rail cutting tools of other companies, but was made for milling machine or careful drill press. |
| Appearance | Very clean cuts and even bead blasting | No first-hand experience | First production batch had minor cosmetic blemishes |
| Availability | All frames, jigs, and kits available as of 5/6/16 | Some steel/stainless frames out of stock as of 5/6/16 | Rarely in stock and almost immediately sold out |
| Base Price | Frames are $165-170 (railed) | Steel ($200), Stainless ($175-230), Aluminum ($150-230) | Steel ($160) |
| Full Kit Price | $1095 | $800-1200 | NA, only frames sold |
Calibers: Right now they only offer .45 ACP frames but should have ramped 9mm frames coming out soon.
Frame Materials: Aluminum for now which is much lighter than standard steel 1911 frames.  Here's a comparison to an 80% Stealth Arms sample, and a completed steel frame Tactical Machining.  It is 4.5 vs 12.9 oz which will equate to the ~30 oz completed weight of an aluminum 1911 and ~40 oz of a steel one.  The weight difference will make carrying easier but also result in slightly more felt recoil.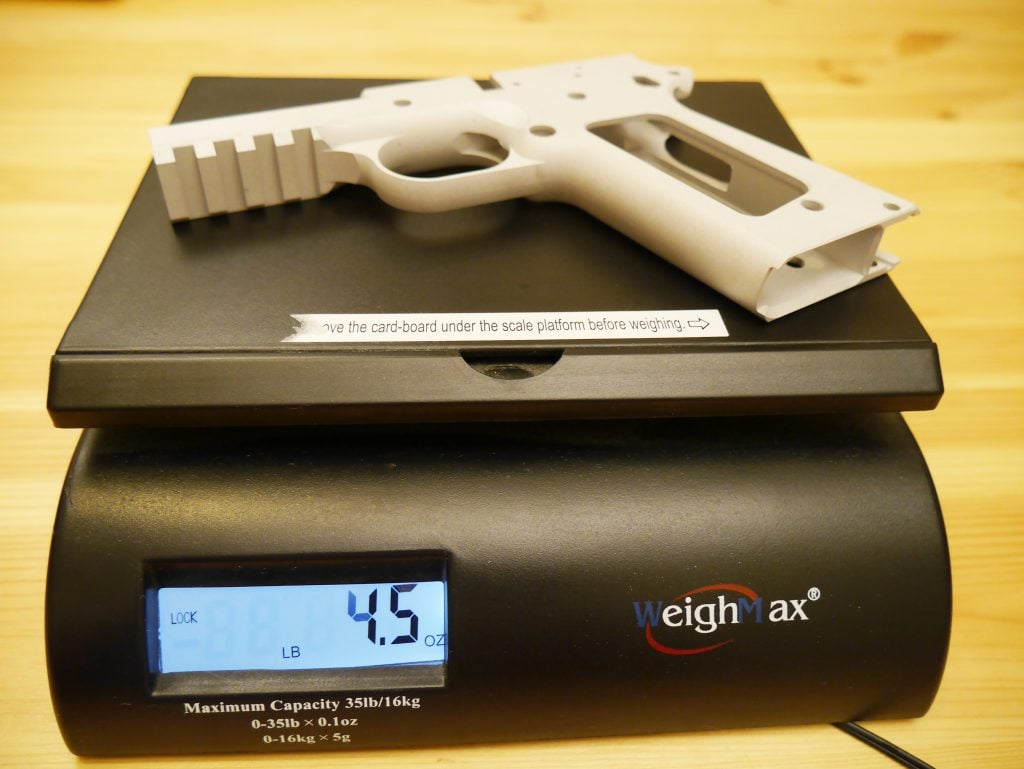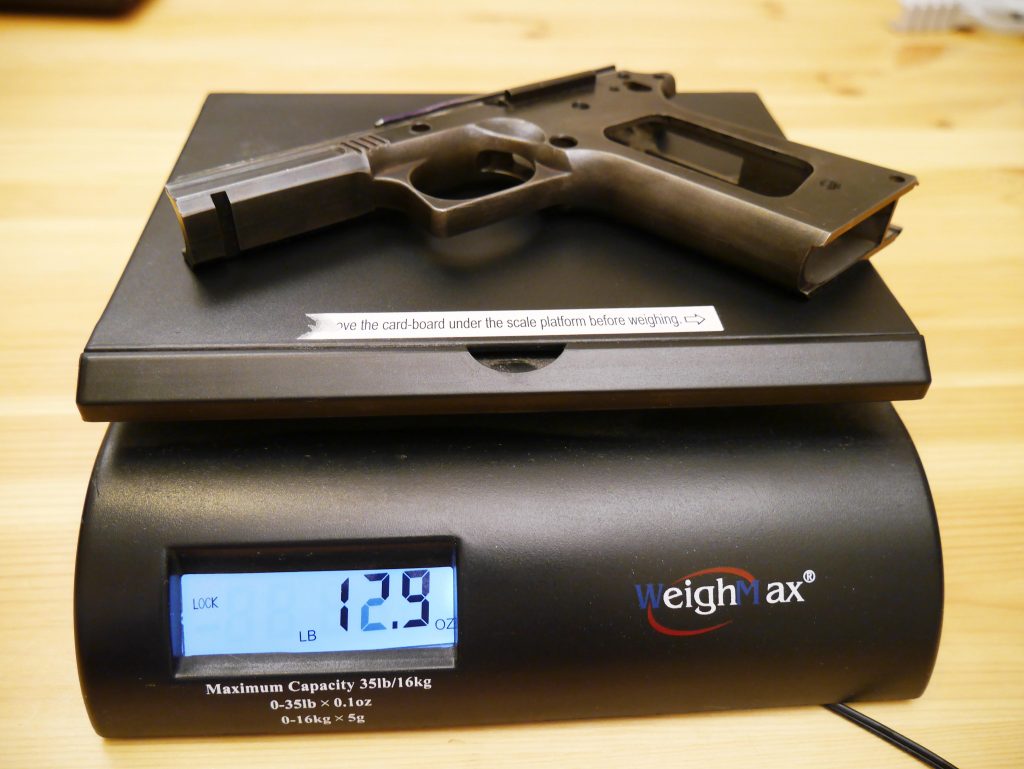 Frame Sizes: Government (5″) and Commander (4.25″).  Bobtail versions and also 30 LPI front strap checkering options coming out in Summer 2016.
Finishing Notes: I have not completed a Stealth Arms kit but since the frame is aluminum, I would likely use the Phantom Jig which cuts the rail without the use of a milling machine.  Definitely the hardest part of completing a 1911 80%.  You can see how I did it with a drill press for my Tactical Machining one (not fun).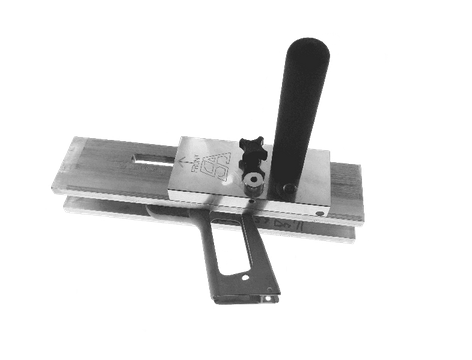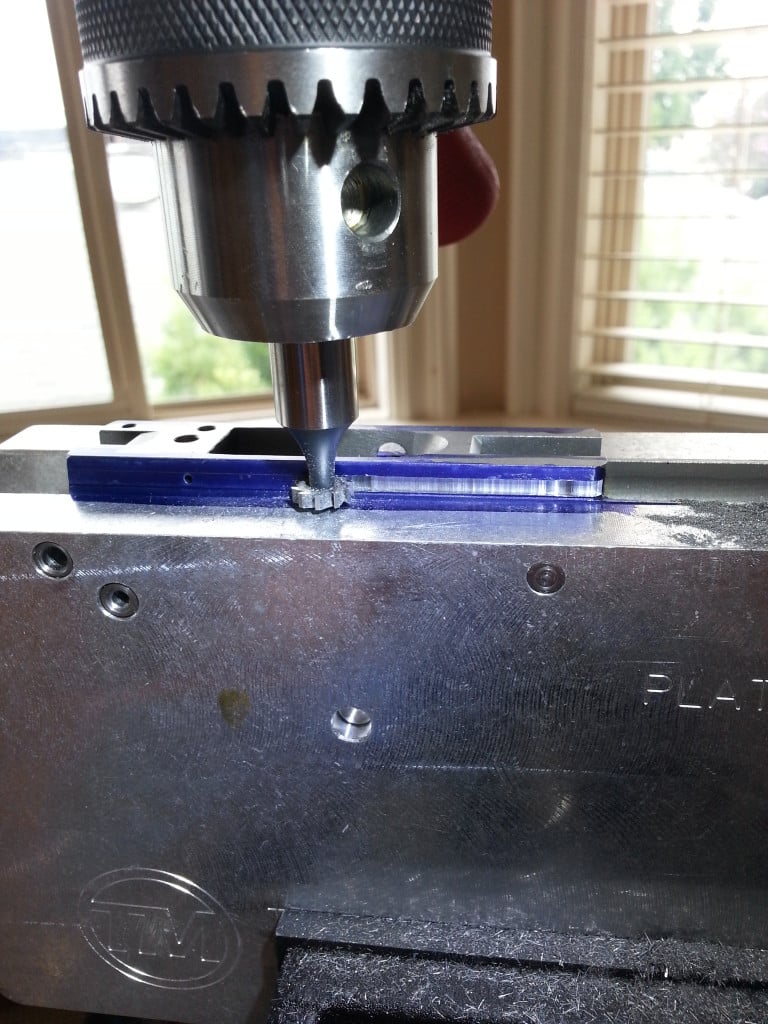 Appearance: Looks great…I couldn't find any cosmetic blemishes on either the standard Government model or the Tactical railed model they sent me.  Also love how you can choose for the surface to be bead blasted so you can more easily paint it yourself later, which is why they look a little white.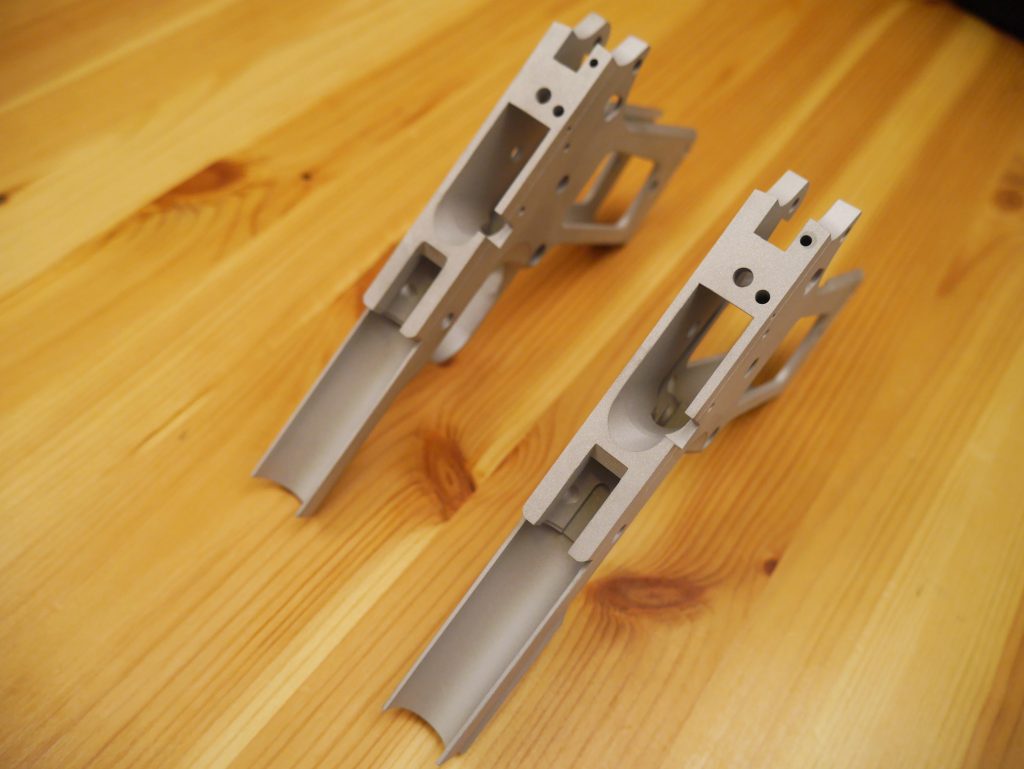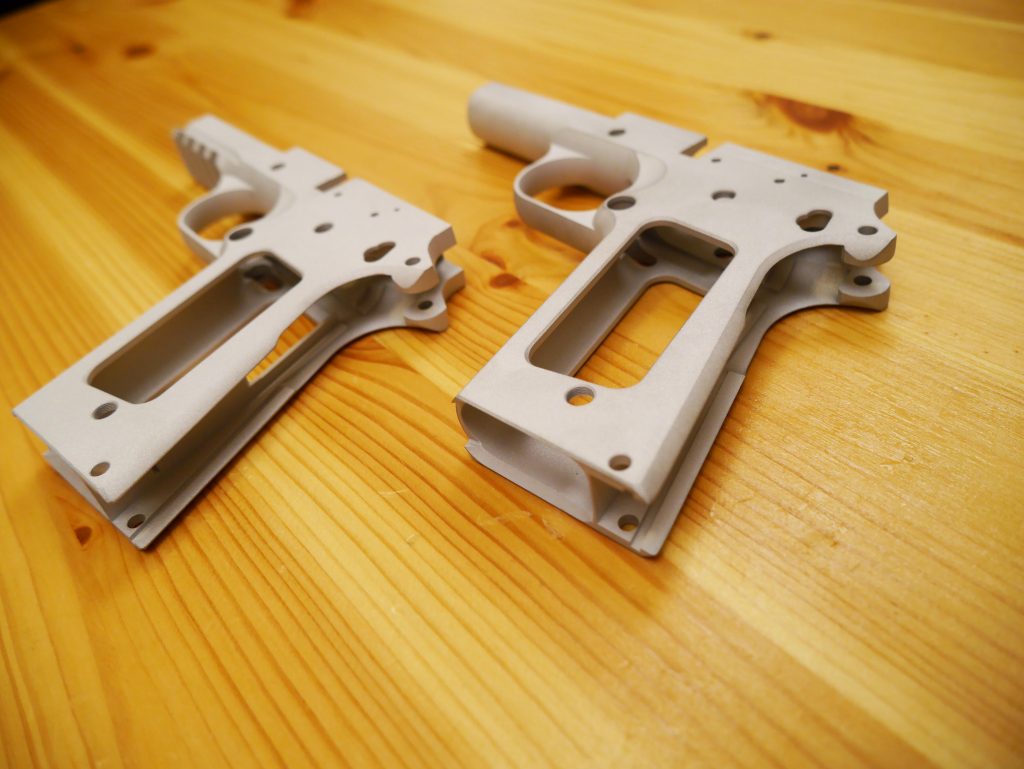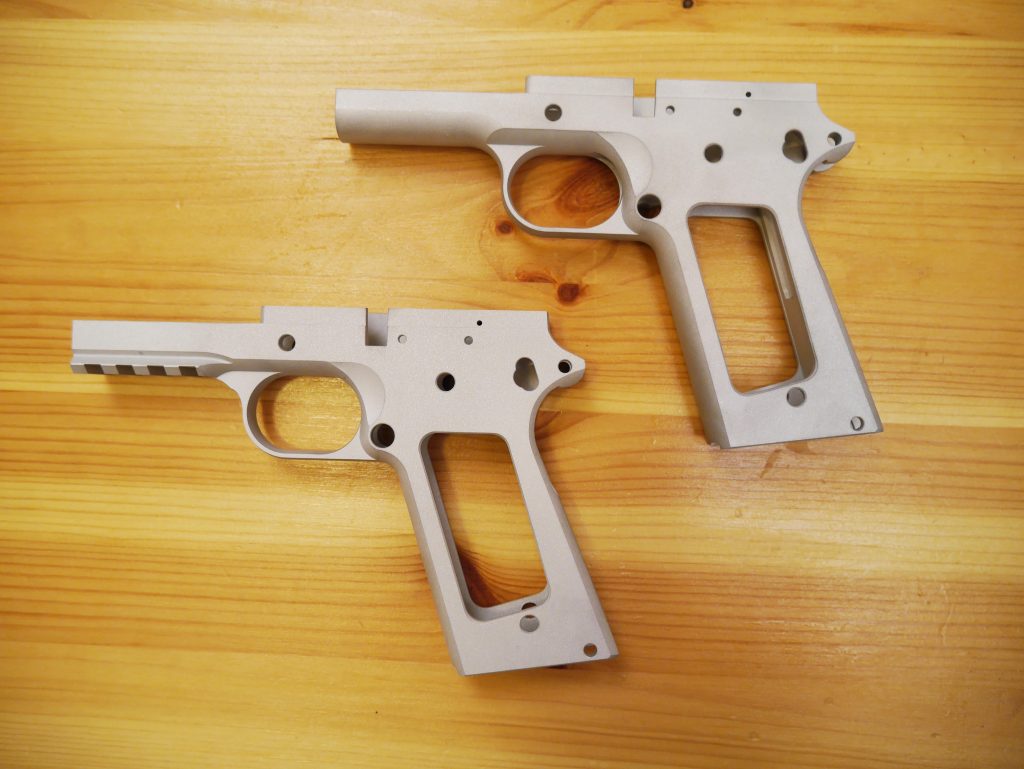 Availability: As of the writing of this article on 5/6/16, they have everything in stock including the frames, jigs, and parts kits.
Base Price: Their 1911 80% frames vary from $165 for the Government model to $170 for the Tactical railed model.
Full Kit Price: The complete kit will run you $1095 and contains all the parts you need to build a 1911. If you get their Phantom Jig that will run you another $200 so it's probably best to split with a friend.  My original Tactical Machining 1911 build ended up costing ~$1300 so this is comparable.
Other:  All their parts are made in-house and I know you can't see it in the picture, but they state that because of that they maintain the ease of drop-in fit with their frames and slides.  Plus they have a "one screw up" policy where you can turn in a messed up frame for a new one at a lower cost.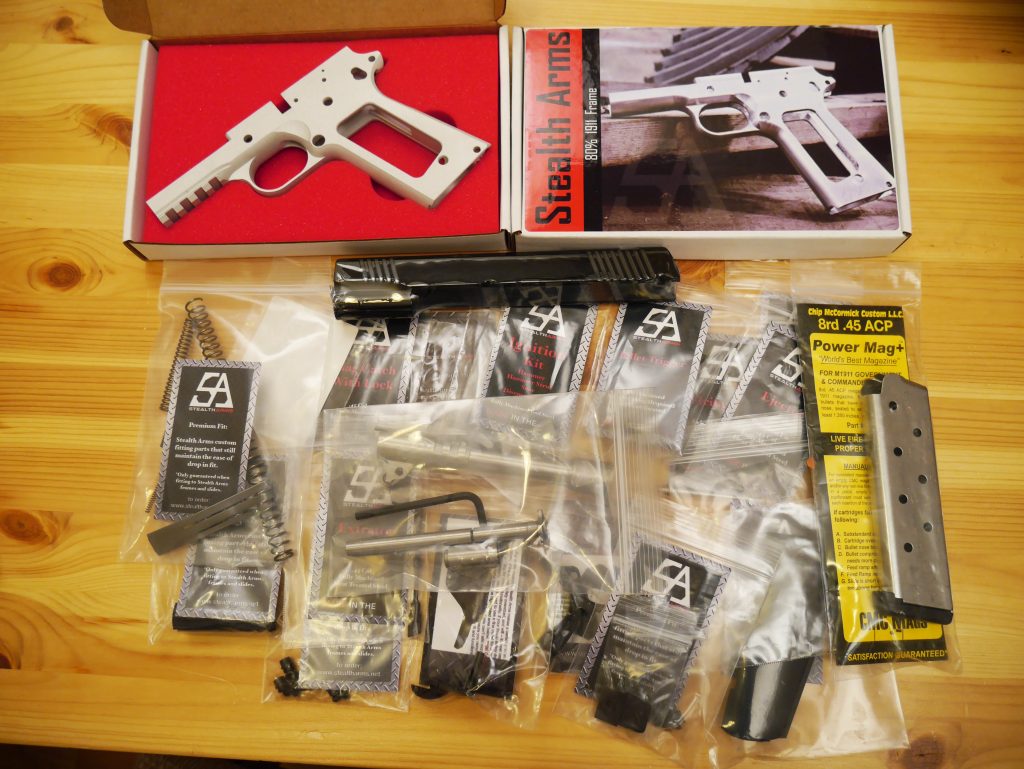 Calibers: .45 ACP and 9mm for some of the stainless steel Officer (3″) kits
Frame Materials: Three to choose from!  Standard steel, stainless steel, and aluminum.
Frame Sizes: Several sizes for each of the frame materials.  Steel (Government, Commander), Stainless (Government, Commander, Officer), Aluminum (Government, Commander).
Finishing Notes: Also comes with a hand cutting rail jig (picture looks to have the Stealth Arms logo) that will likely easily cut through the aluminum but might require extra bits to get through the steel and stainless.   Also stainless and steel frames require some "decking" either manually or with another jig.  This means that you need to remove some material from the top of the frame.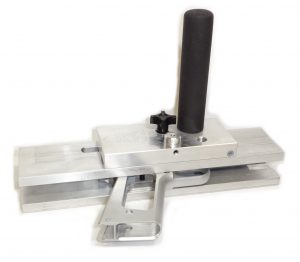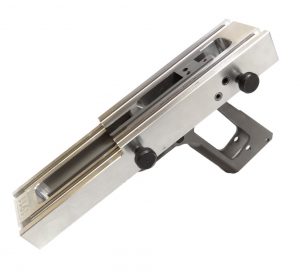 Appearance: Haven't had firsthand experience with them.
Availability: As of 5/6/2016, some steel/stainless frames look to be out of stock
Base Price: Steel ($200), Stainless ($175-230), Aluminum ($150-230).  Ranges occur since some have rails, checking, or bobtail grip.
Full Kit Price: Ranges from $800-1200 based on quality, sights, and frame size.  Some kits include the rail cutter which makes those cheaper than Stealth Arms.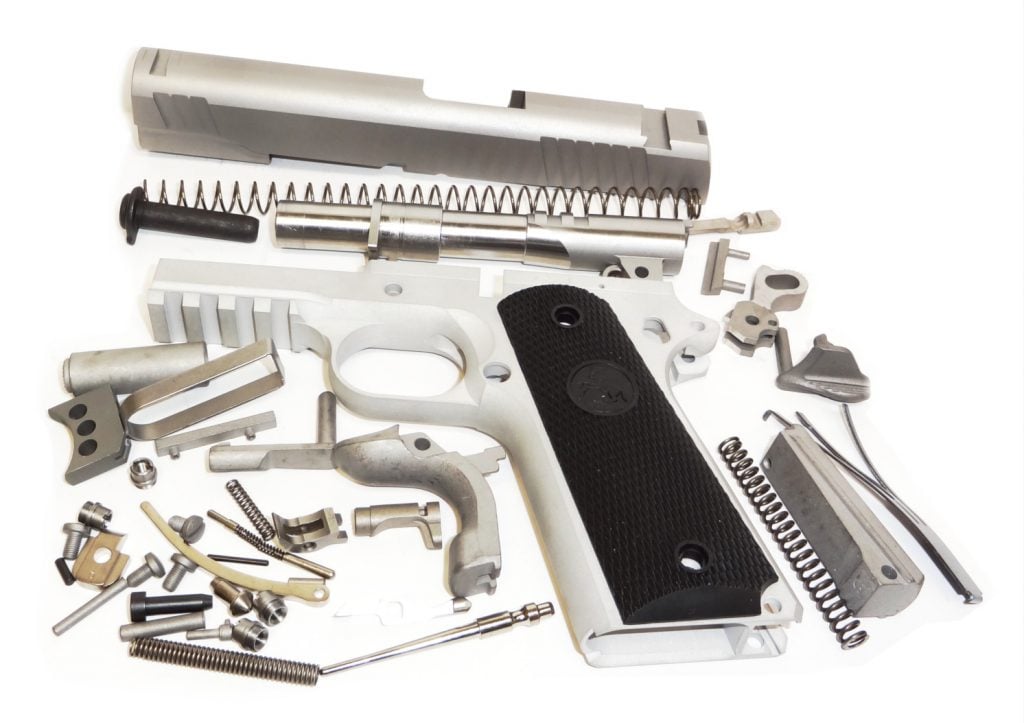 Calibers: .45 ACP
Frame Materials: 4140 Steel
Frame Sizes: Government (5″)
Finishing Notes: Might be able to use Stealth Arms' rail cutting jig, but was originally intended for milling or careful drill pressing.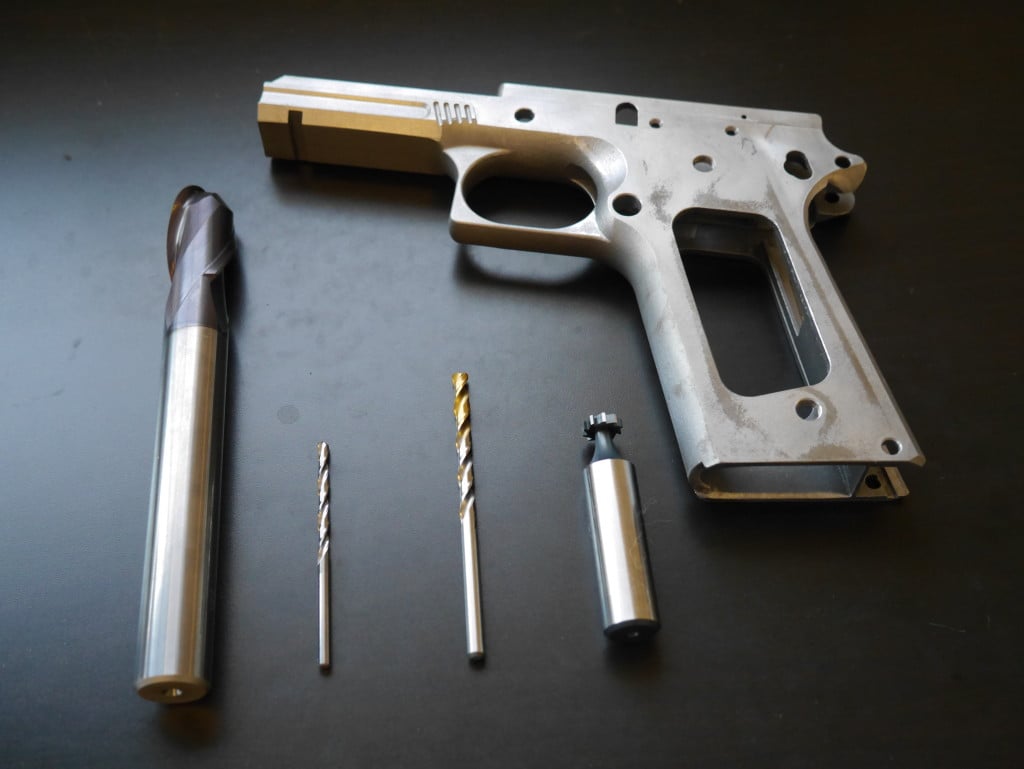 Appearance: I got two in their first batch and both had some minor cosmetic blemishes that I had to file away.
Availability: Currently sold out and I rarely see them back in stock.  They spurred the whole 1911 80% game but have seemed to let it die out.
Base Price: $160 for the frame, no kits
Conclusion
I've only had first-hand experience with the Tactical Machining 1911 80%, but considering they are almost always sold out, you've got your choices of Stealth Arms or 1911 Builders.  I haven't built any of them yet but each has their merits based on frame materials, pricing differences, finish, and calibers.
Don't want to build your own? Here are our Best 1911s For The Money review – updated for 2018!