Suppressors, silencers, cans, whatever you want to call them…
We can all agree they look pretty rad at the end of a gun. But they also serve a purpose — to dampen the sound of gunfire.
Why is that important?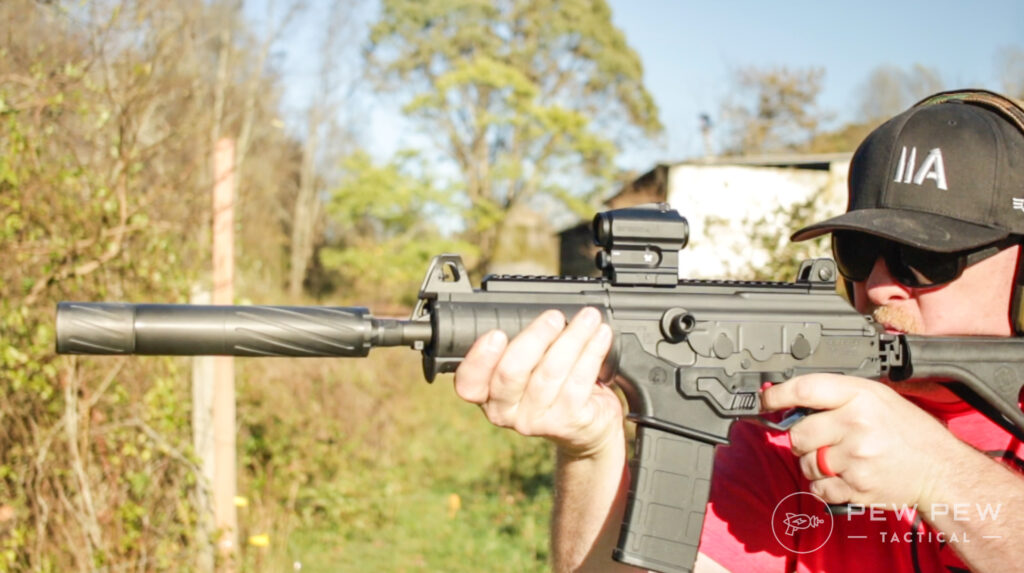 Well, if you shoot frequently and value your hearing, a suppressor is a great tool to pop on a pistol or rifle to take the strain off your ears.
Reducing bangs to a more tolerable volume, suppressors are handy and fun to take to the range.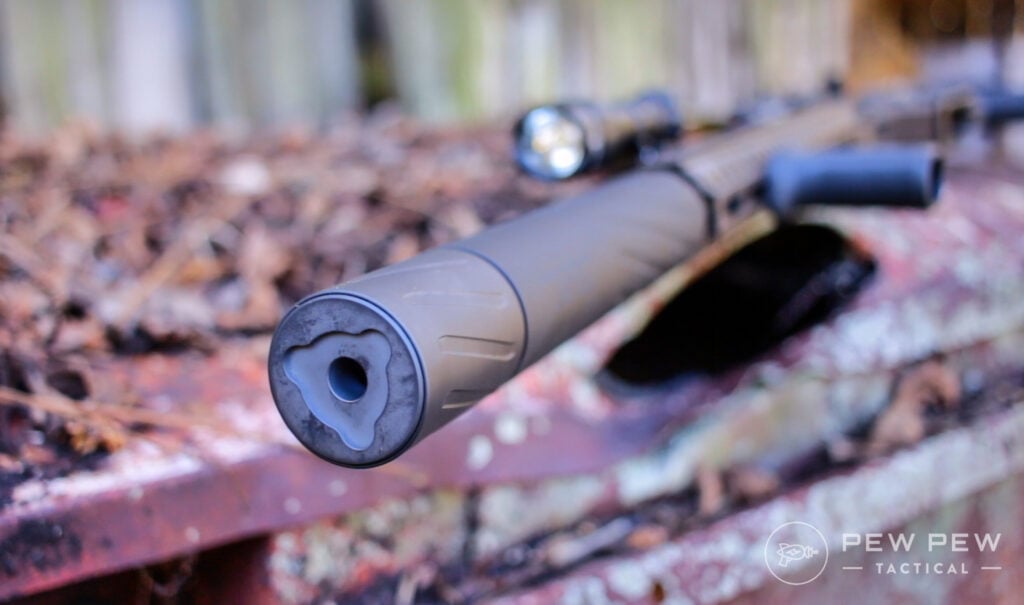 Today, we're going hands-on with a suppressor from Silencer Central — the Banish 30. Rated for a variety of calibers, the Banish 30 promises to be a versatile suppressor.
It's also one of the lightest silencers you'll find.
And it won Guns & Ammo's Silencer of the Year for 2021.
999
at Silencer Central
Prices accurate at time of writing
Prices accurate at time of writing
I've been waiting to test the Banish 30 out, so let's scope out some details, talk about the pros and cons, and see just how well it reduces noise.
Check out my video below to see the Banish 30 in action.
Itching for more? Make sure to follow Pew Pew Tactical on YouTube to see what else we have up our sleeves.
Table of Contents
Loading...
Specs and Stats
I know ya'll love numbers, so let's get into the nitty-gritty details.
Billed as the "most versatile suppressor" in Silencer Central's Banish lineup, this can supports both rimfire and rifle calibers from .17 up to .300 Weatherby. Did I mention it's also full-auto rated?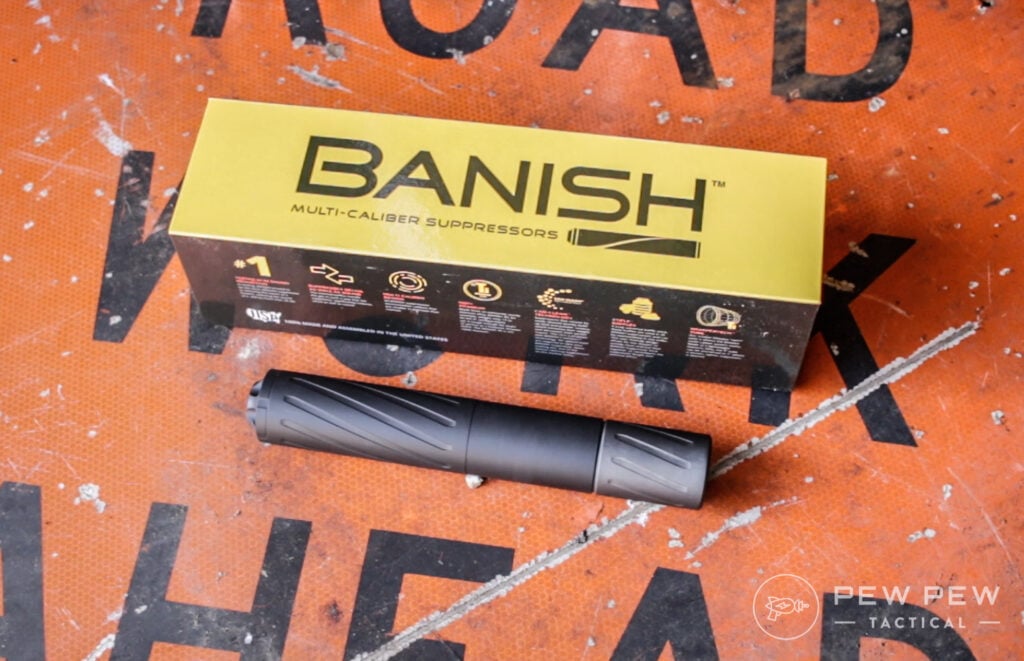 The Banish 30 ships as a 9-inch suppressor, but there's a little more to this can than meets the eye. It can easily break down and be reassembled as a 7-inch can.
This ability knocks length off the suppressor while also cutting down on the weight.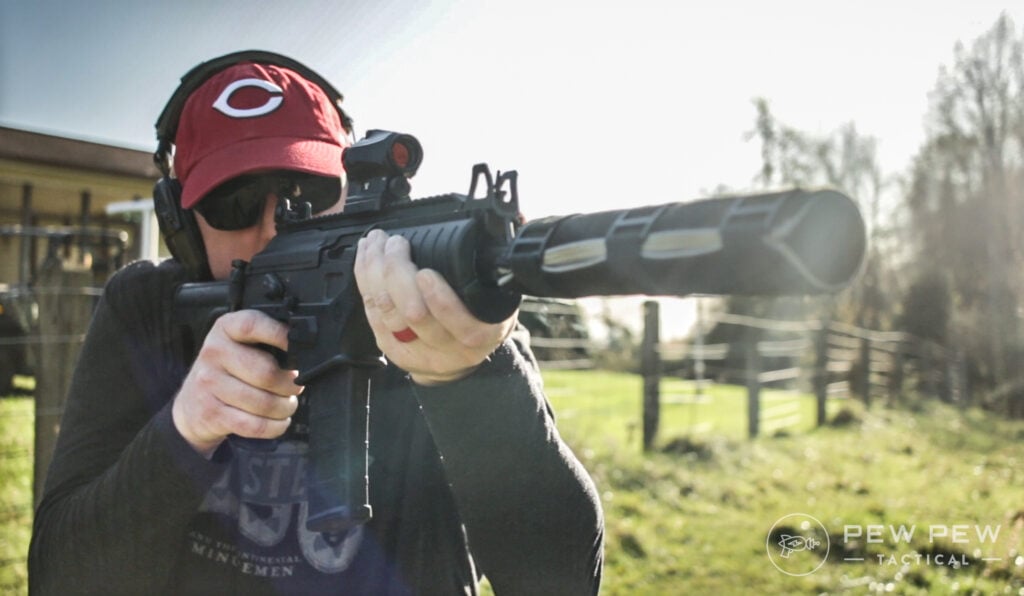 Not that there is much to gripe about there.
In the 9-inch configuration, the Banish 30 weighs a mere 13-ounces. Stepping down to 7-inches pushes the weight down to 10-ounces.
That's less than a can of Sprite for anyone keeping track.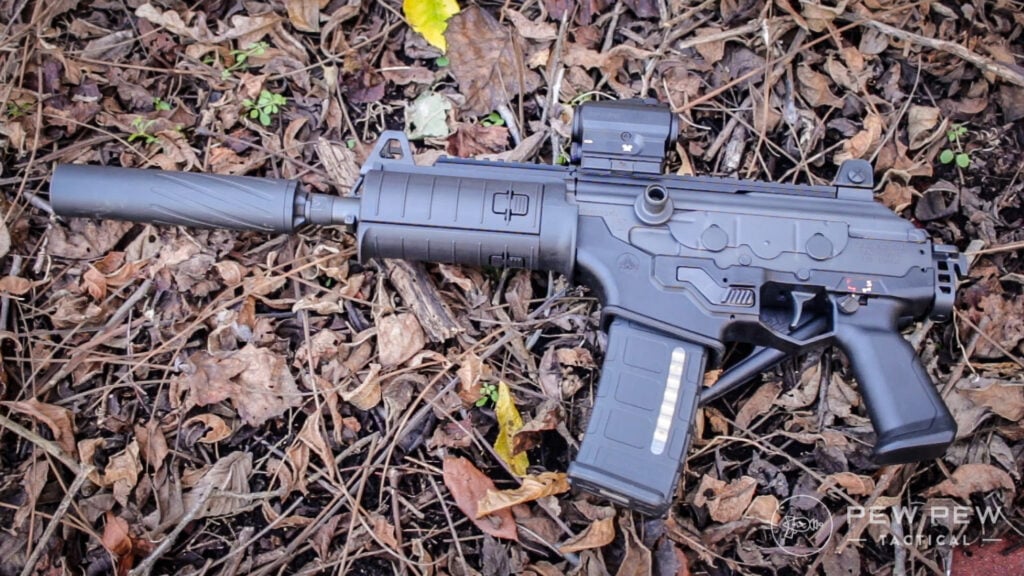 How does the Silencer Central trim weight?
Titanium, of course.
Using a titanium alloy build, the Banish 30 brings both durability and lighter weight to can fans.
All around, the Banish measures 1 1/2-inches in diameter and uses a 5/8×24 thread pitch.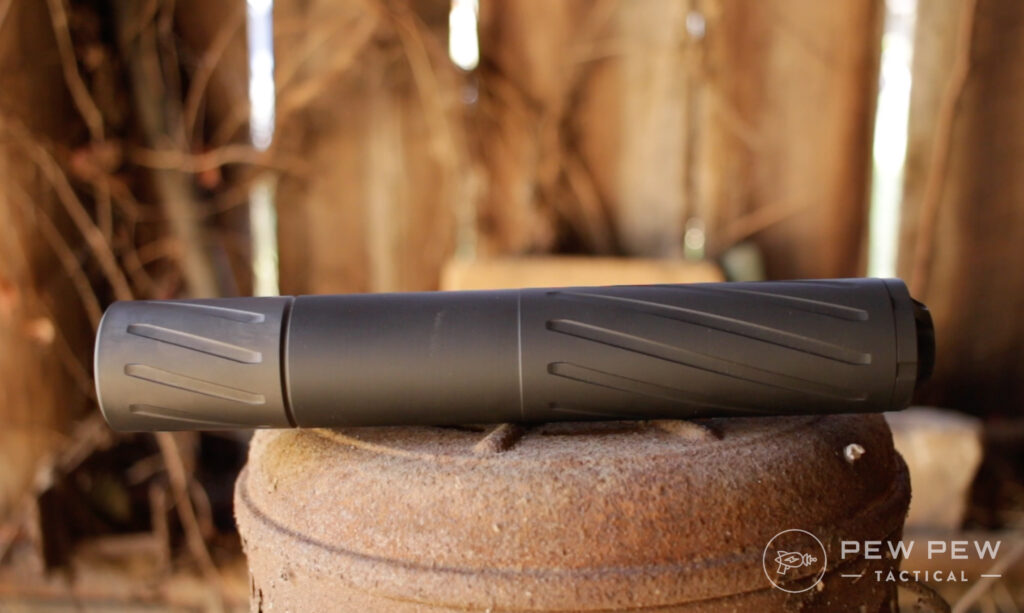 The can sports eight STifle baffles that team up to reduce that all-too-familiar bang to a quieter PFFT.
In total, Silencer Central says the Banish 30 cuts the pop of a .308 by 34-decibels. Does that hold up in court?
We're going to find out.
Shhhh….Range Time
Though you can swap things around to produce a 7-inch can, I chose to run with it at the full 9-inches.
Out of the gate, I noticed how extremely LIGHT this thing is. Loads of suppressors these days are steel or aluminum, which gives them a little more oomph on the scales.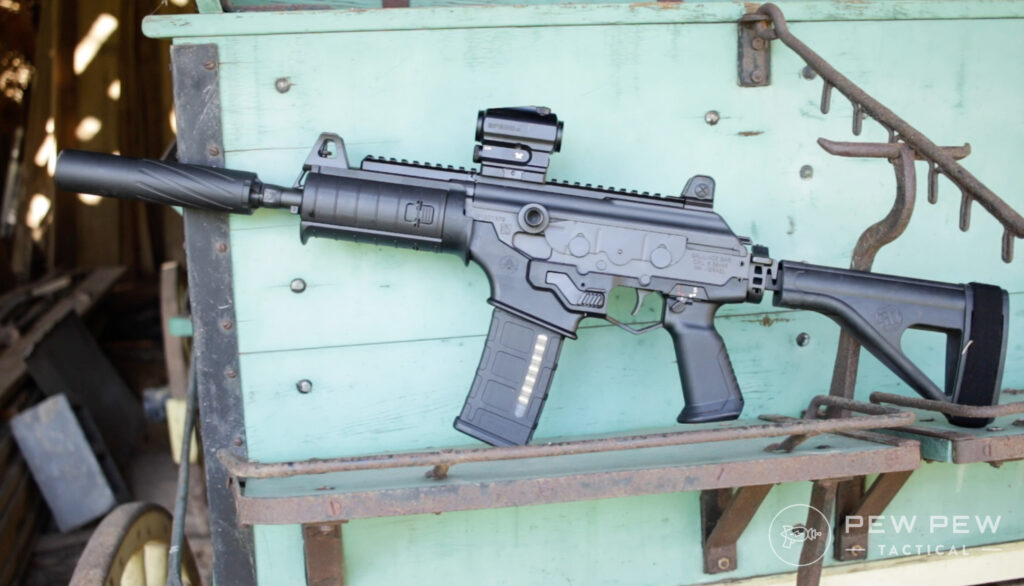 The Banish 30's titanium really makes a difference where weight is concerned.
Not to mention, titanium is great when it comes to durability. This suppressor will probably outlive all of us.
If it doesn't, well, Silencer Central offers a lifetime warranty.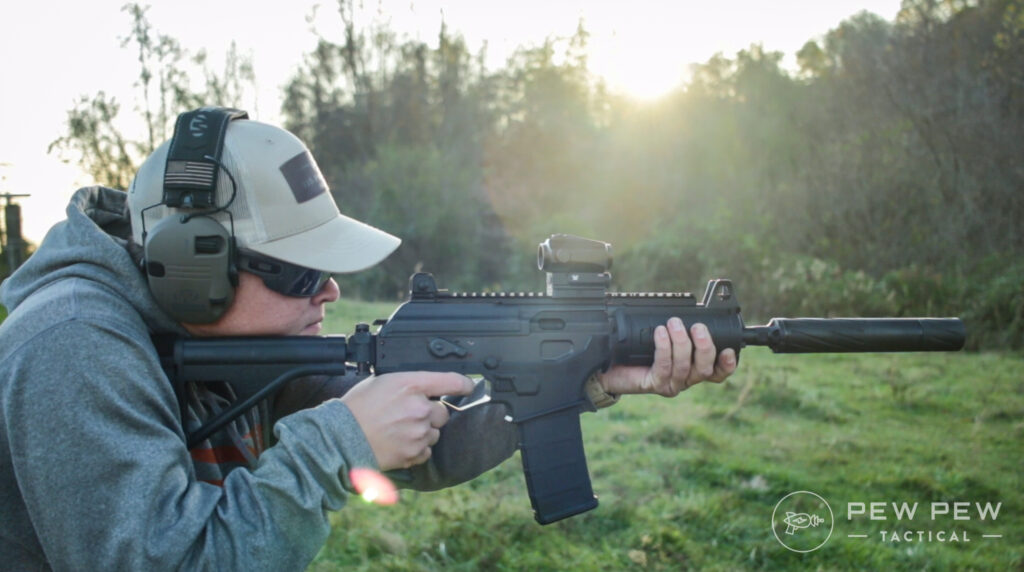 As I mentioned previously, it is a direct thread model with thread pitch sitting at 5/8×24.
That's a bit of a bummer if you have threads in any other flavor, BUT Silencer Central does have collars for mounting on 1/2×28 barrels. In fact, those collars are what I used for this review.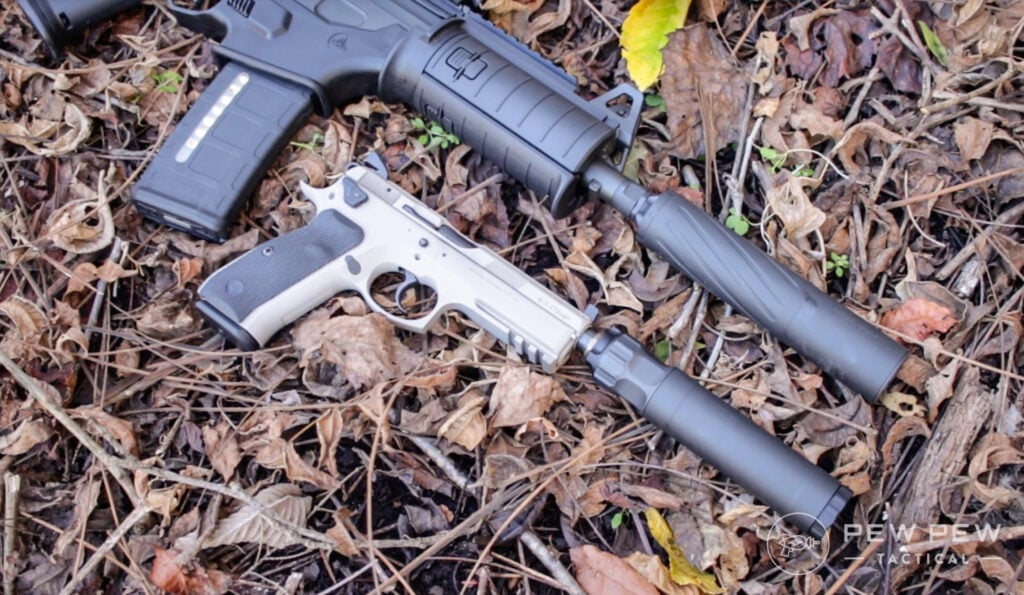 Since suppressors fall under the National Firearms Act, I couldn't test the Banish 30 out on my own. (Without forking over $200 to the ATF.)

So, Ryan from Silencer Central was kind enough to spend the day with me so I could test this can out.
Ryan and I threw a boatload of HSM ammo downrange with the Banish 30 at the business end of a Galil Ace AR-pistol, CMMG Resolute 300, and Remington 700.
1750
at Kentucky Gun Co.
Prices accurate at time of writing
Prices accurate at time of writing
Biggest takeaway?
It's QUIET. Like, instantly quiet on the range.
Ryan brought out his fancy science machines for me to see the decibel reduction, and, yep, it was minus mid-30s consistently. For all you non-sciency folk, the can takes the bark out of the dog.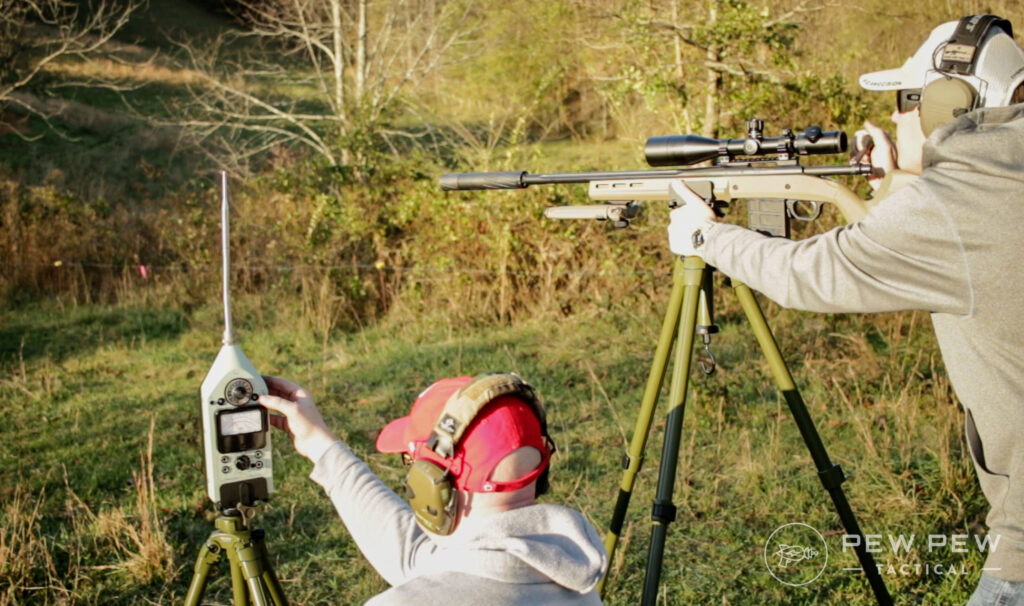 Silencer Central says to expect that kind of action while shooting since ALL of their cans are guaranteed hearing safe.
Now, I still wore ear pro on the range, but that's more out of habit than necessity. At the end of the day, Silencer Central says if you want to ditch the hearing pro, go for it.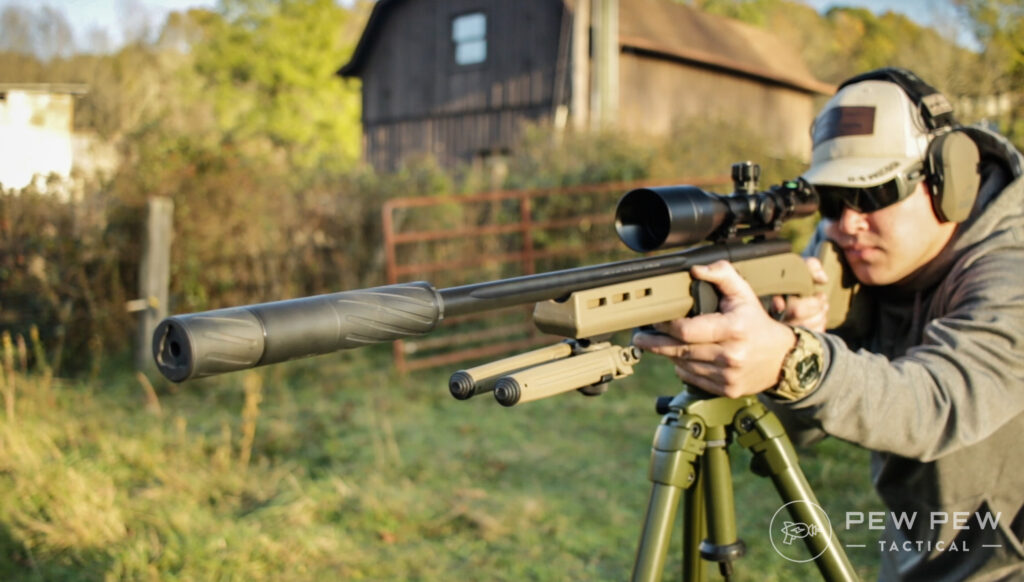 Another bonus, but a little less measurable, was the gas reduction. I ate less gas with the Banish 30 than my other personal cans. I fire my Galil Ace suppressed frequently, and the Banish did an outstanding job forcing that gas down-range and away from my face.
Pros and Cons
Don't judge a book by its cover or, in this case, a plain black exterior. She may not look like much on the outside, but it's what's inside that counts after all. In this case, what's impressive is the Banish 30's ability to break down for cleaning.
Yeah, none of that grimy build up on the inside killing the shelf life of your can.
Simply take the can apart and DIY. It's that easy.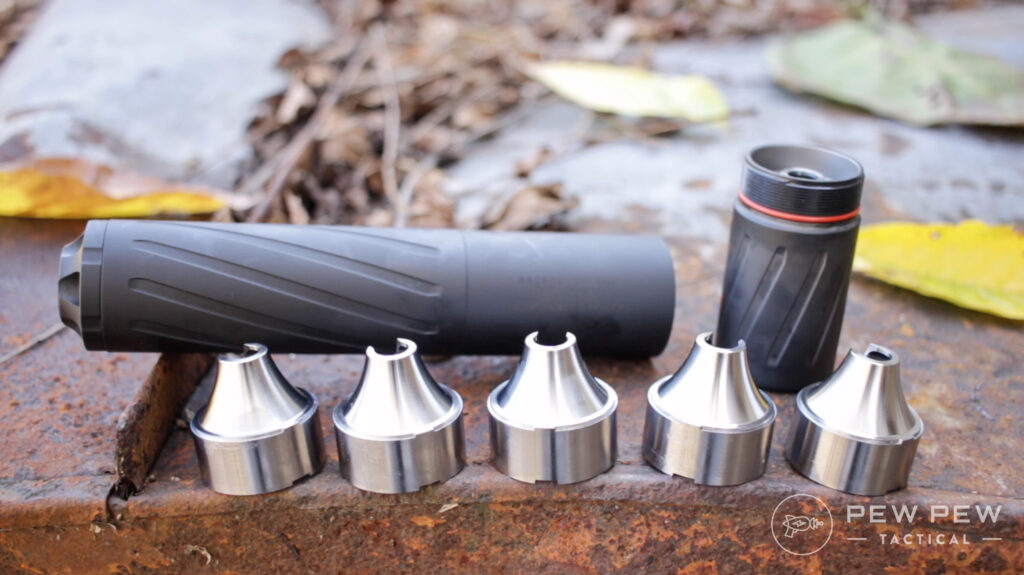 Speaking of easy, let's talk about the buying process. While this has nothing to do with the can's performance, it's worth mentioning because of the hoops you have to jump through to own a suppressor.
Silencer Central handles all the boring but necessary ATF stuff. For those of us who want to spend time doing other things rather than navigating confusing government paperwork, this is HUGE.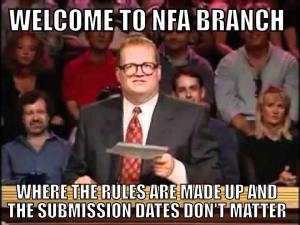 From the form required to actually buy the suppressor to setting up a gun trust, Silencer Central does the heavy lifting. They even ship the silencer to your home.
I don't have to leave my house? Sign me up.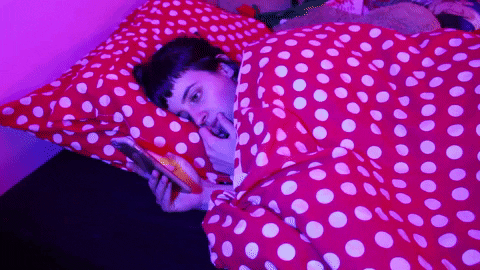 While I love the buying process, the easy maintenance, and the weight, the Banish isn't without shortcomings. Namely, that direct thread mounting. Let me be frank; it's annoying.
If you're accustomed to quick-connect suppressors, the Banish 30 will feel like it takes forever to screw onto the gun.
First world problems.
By the Numbers
Quietness: 4.5/5
Reduces bangs by 35 DB. Nuff said.
Reliability: 5/5
It's made out of titanium, so you can't kill it.
Usability: 3/5
Fans of quick-connect suppressors won't like direct thread. If you're going to be sharing your can among multiple rifles, prepare to turn, turn, turn.
Weight: 4/5
Again, it's titanium…so having a can this light on the end of your rifle won't drag you down.
Maintenance: 5/5
Easily breaks down for cleaning, which is a nice feature and also ensures longevity.
Value: 4/5
At just under $1,000, it's a top-shelf can. Plus, you gotta budget to pay your $200 tribute to Uncle Sam.
999
at Silencer Central
Prices accurate at time of writing
Prices accurate at time of writing
Overall: 4.5/5
Super quiet and crazy light. The fact that Silencer Central handles your paperwork for you is icing on the cake. Solid all-around.
Banish 30 Gold
Want to go even better? There's the Banish 30 Gold edition that ditches the direct thread and gives you a bunch more goodies.
First…you have muzzle brake mounts (1/2×28 and 5/8×24) that thread easily to the suppressor. That way you can have multiple rifles in multiple calibers ready to go…with or without the suppressor.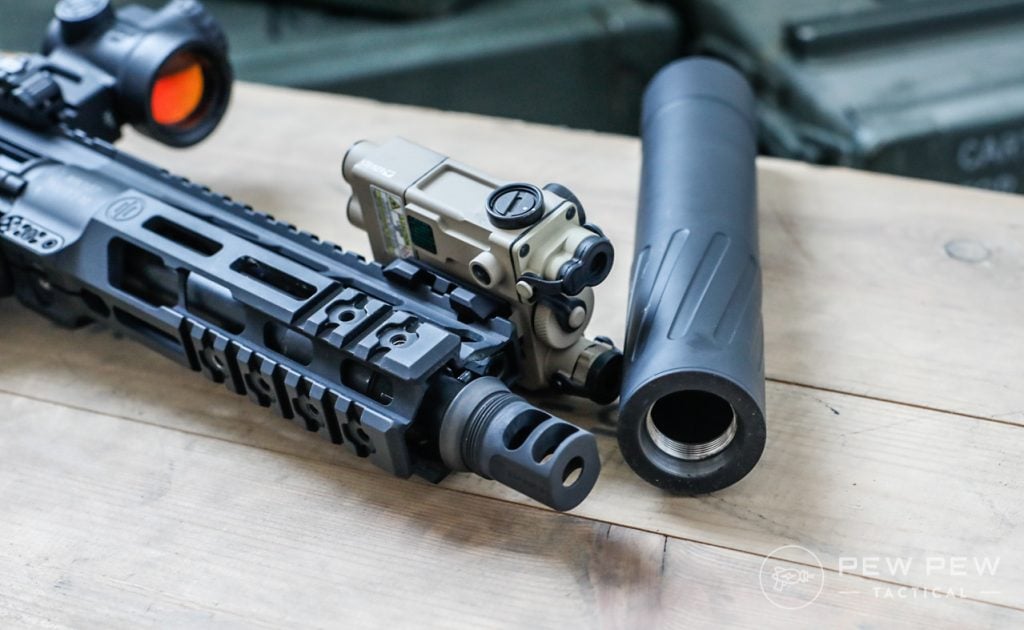 Other stuff? How about a Devour suppressor cover that lowers the noise even more, a suppressor pouch, and baffle removal tool.
You do lose the ability to go long or short.
But if quick disconnect on multiple rifles is your game…check out the Gold edition.
1699
at Silencer Central
Prices accurate at time of writing
Prices accurate at time of writing
And here it is in action.
Conclusion
The Banish 30 is a direct thread, full-auto rated suppressor with enough versatility to handle calibers ranging from .17 to .300. Its titanium build paired with the ability to break down for easy maintenance makes this silencer a clear winner.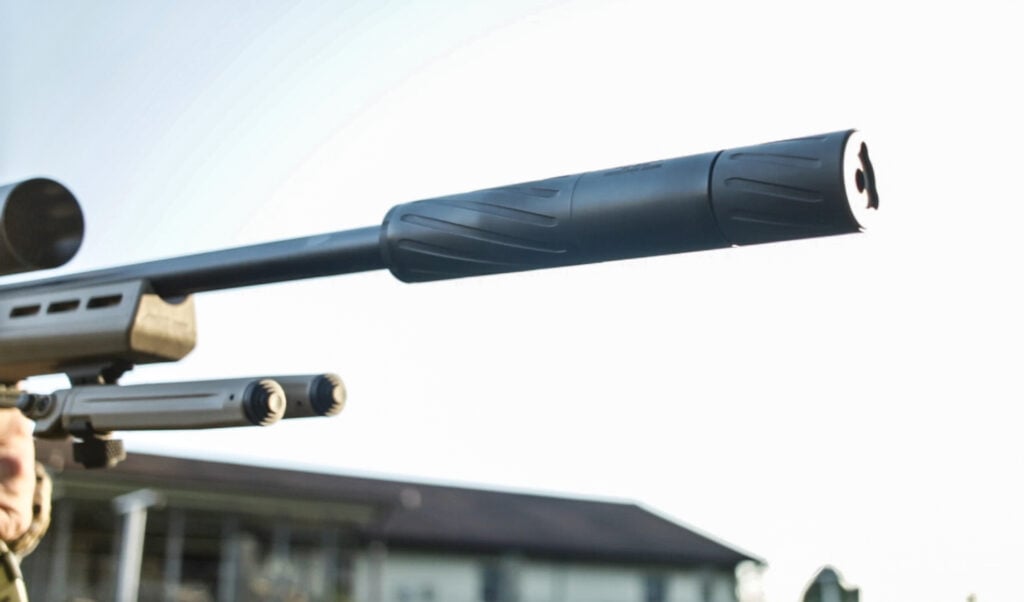 MSRP rests around $980, but keep in mind, that price does NOT include paying homage to the ATF (a.k.a. that $200 tax stamp for the thumbs up to own).
While we're on the topic of the ATF, again, having Silencer Central handle all the paperwork is worth its weight in gold. Easy peasy.
Overall, I had a great time with the Banish 30. It's quiet and makes going to the range a whole different experience.
999
at Silencer Central
Prices accurate at time of writing
Prices accurate at time of writing
Have you tried out Silencer Central's cans? What were your thoughts? Share them in the comments below. Want more suppressor goodness? Check out our top-rated 9mm Suppressors and AR-15 Suppressors.