What do you get when you combine a company specializing in AR-15s and parts with a world-renowned training facility known for its rifle courses?
The Aero Precision Thunder Ranch TR15, of course!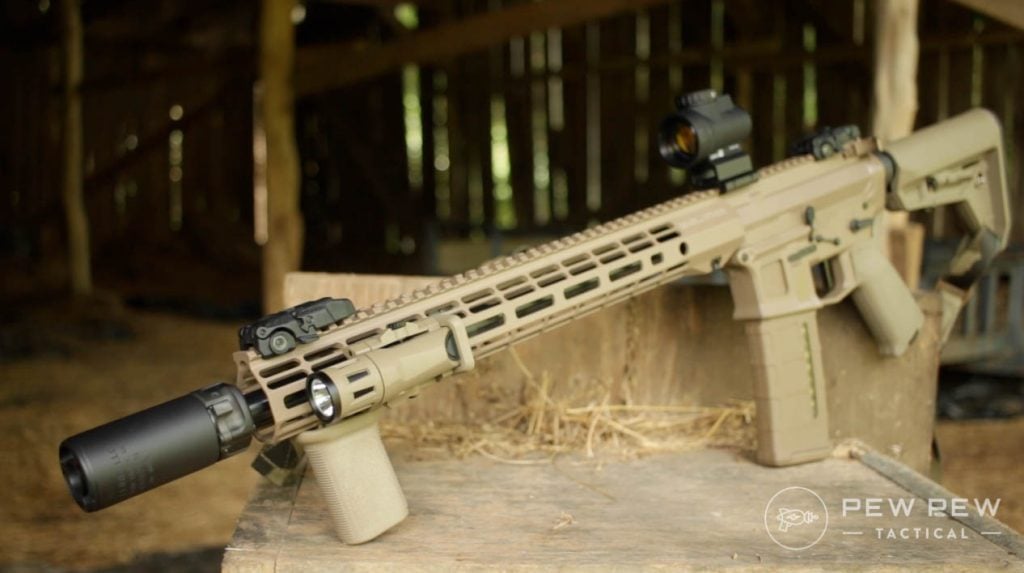 This AR-15 is a special edition rifle in collaboration with Thunder Ranch. Clint and Heidi Smith of Thunder Ranch are legendary, so I was pumped to head out their way for training.
I took the Urban Rifle Course, and during that week, I used their personal TR15s.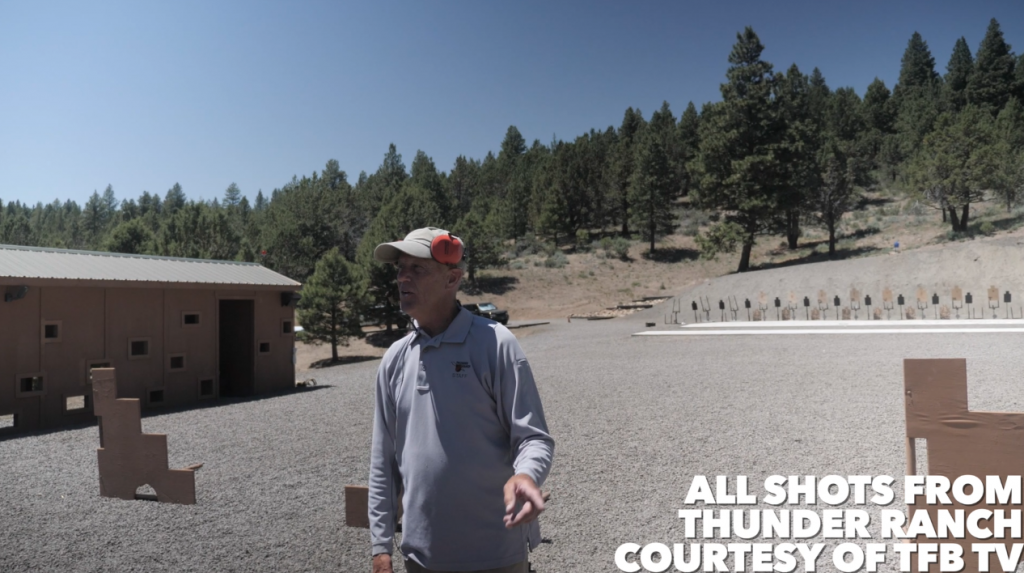 I was so impressed, I came home and bought three TR15s for myself – two for use and one as a safe queen.
Before you ask, yes, I paid full retail and waited for them to be in stock on the website like everyone else.
So, today I'm going to run you through the TR15. I'll tell you what I love about this rifle and why it's one of my favorite AR-15s.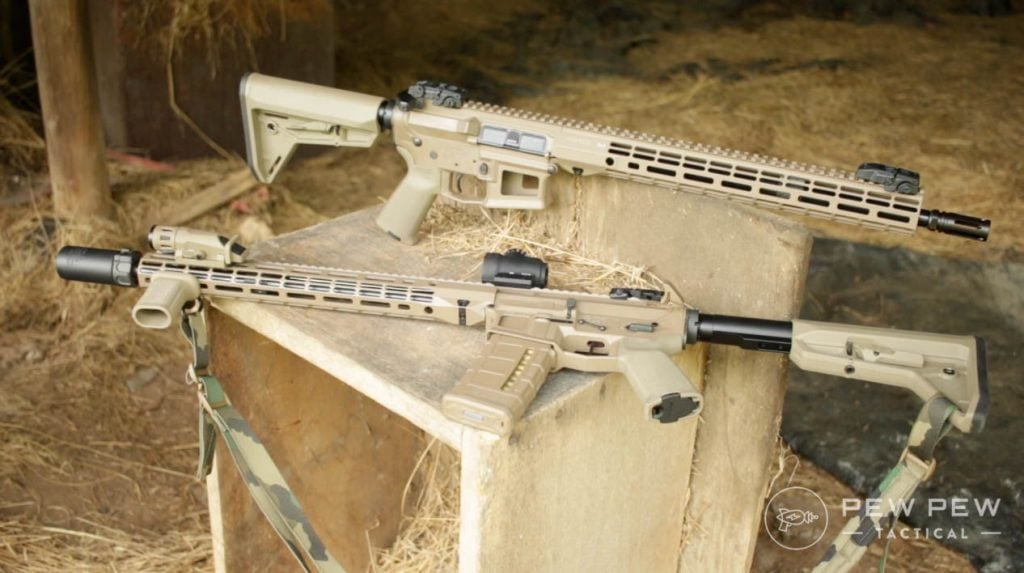 By the end, you'll have a good idea whether the TR15 is right for you.
To see the rifle in action, check out my full video review below.
As always, make sure to head over to Pew Pew Tactical's YouTube channel for more gun and gear content.
Table of Contents
Loading...
What is the TR15?
As I mentioned, the TR15 is a special collab between Aero Precision and Thunder Ranch.
149
at Aero Precision
Prices accurate at time of writing
Prices accurate at time of writing
And, no, this isn't just a regular AR-15 with the Thunder Ranch logo slapped on the side. Aero Precision built the TR15 to Clint Smith's specifications.
While I was at Thunder Ranch, I shot Clint and Heidi's TR15s, serial numbers 01 and 02 – pretty cool.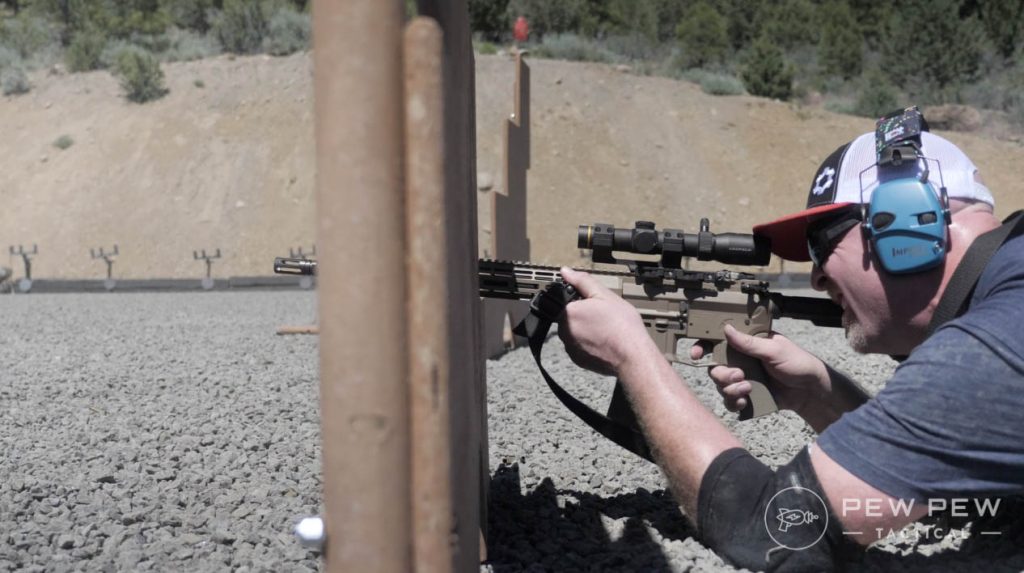 The 5.56 chambered AR platform rifle comes in a few varieties.
You can get these as stripped or complete lowers, just the upper receiver or a complete barreled upper. And you can get complete barreled uppers in 14.5- or 16-inches.
All of that comes in either black or peanut butter (aka FDE…c'mon, it looks like PB).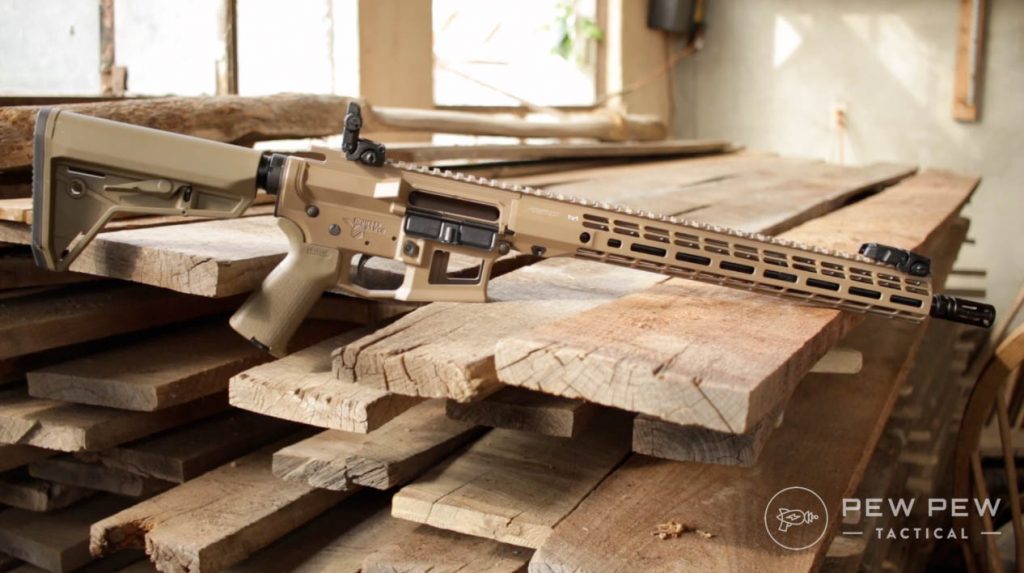 But, keep in mind that when you buy an Aero "complete" upper, they don't come with a charging handle or bolt carrier group.
Good news, though. We can help with that, so be sure to look at our Best Charging Handles and BCG articles.
Also worth mentioning, Aero sells the complete uppers, and complete lowers separately.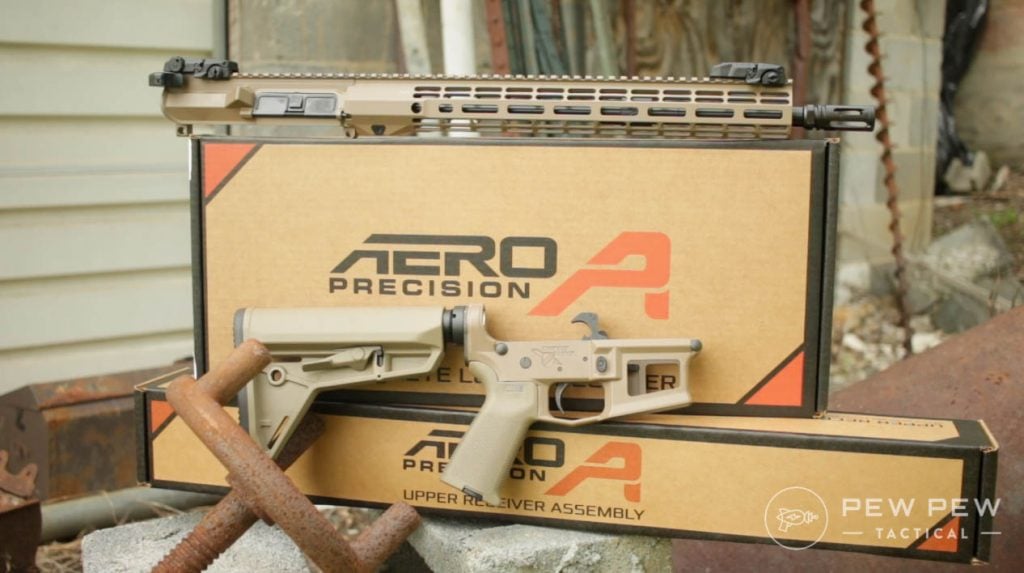 MSRP right now for the complete lower is $350 to $370 depending on finish, and the complete uppers are in the mid $600 range depending on length and finish.
But again, on top of an optic, you need to budget for a BCG and charging handle.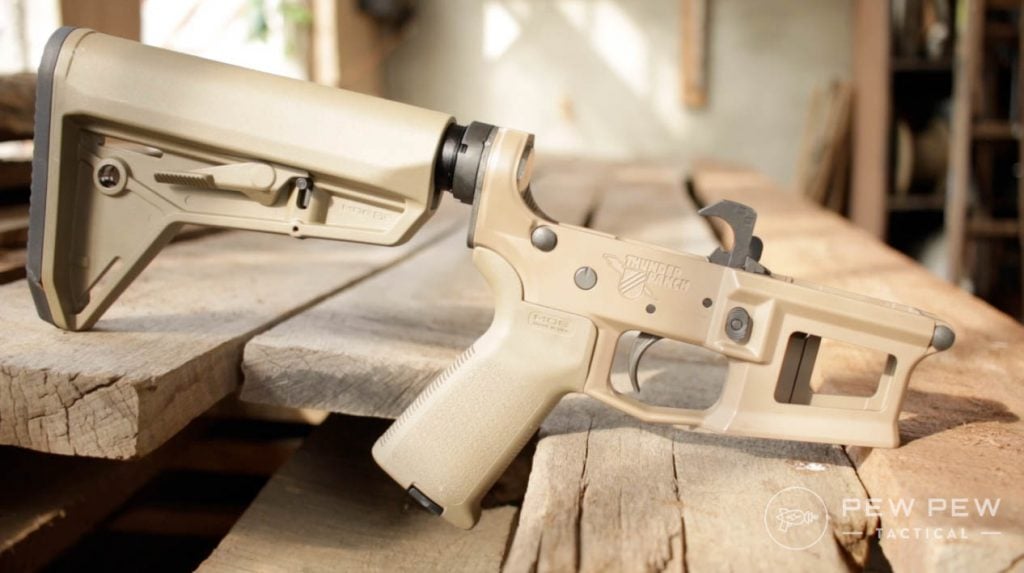 TR15 Specs & Features
For me, I chose Clint's set-up — a complete Thunder Ranch lower paired with a complete 16-inch upper, both in Magpul FDE Cerakote.
Worth noting that the receivers are forged, and the lowers are based on Aero's classic M4E1. So, the controls feel familiar.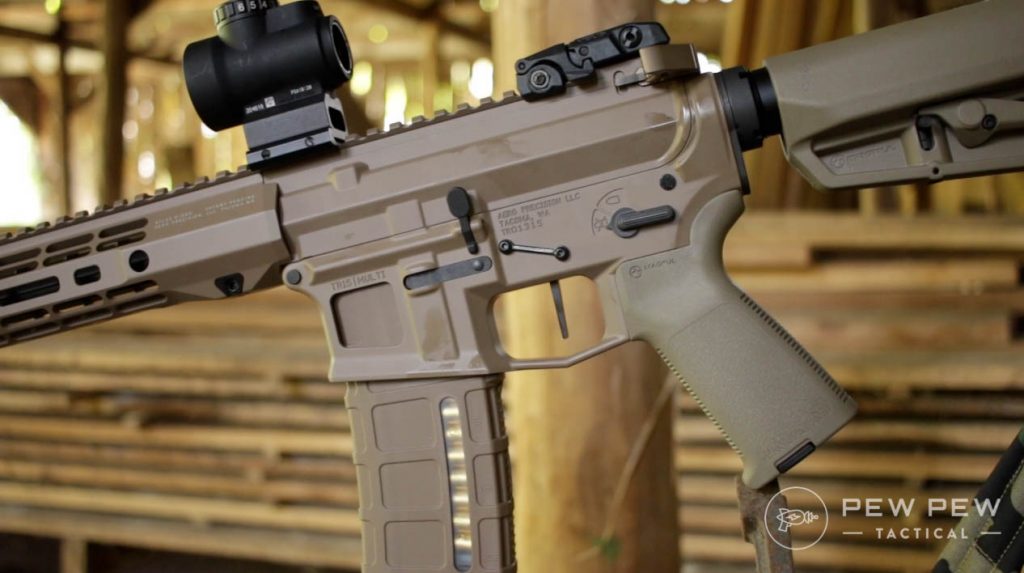 Everything is mil-spec compatible, so you can change things out and dial it in like you want.
Furniture includes a Magpul MOE grip and SL stock, which I love.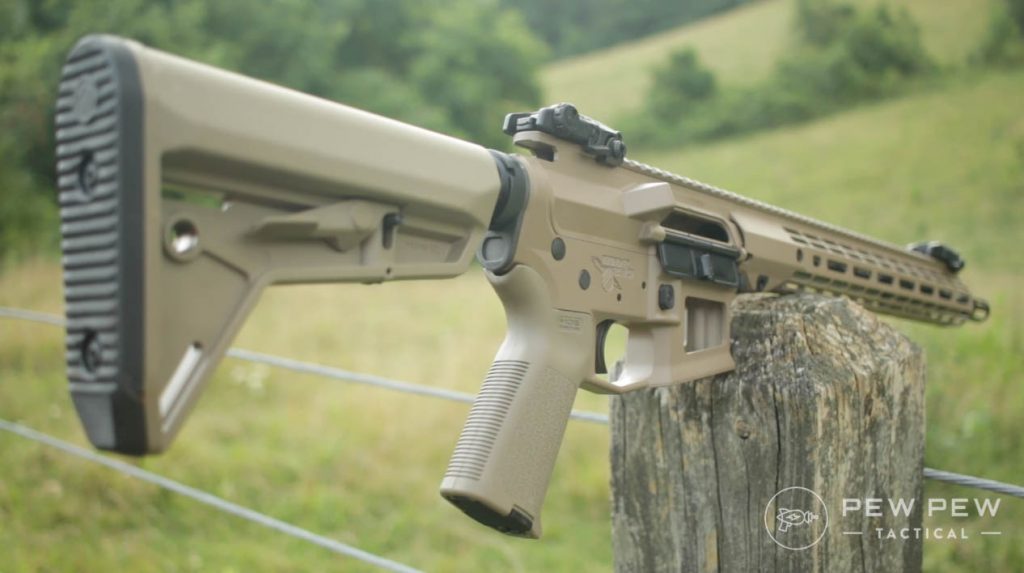 The barrels are 4150 chrome moly with a 1-in-7 twist and a mid-length gas system.
You might be looking at the handguard and thinking, "That looks familiar." That's because it's part of the Aero Atlas line.
123
at Brownells
Prices accurate at time of writing
Prices accurate at time of writing
It comes loaded with M-LOK for all the accessories you could dream of.
Up front, the rifle sports a VG6 Delta muzzle device.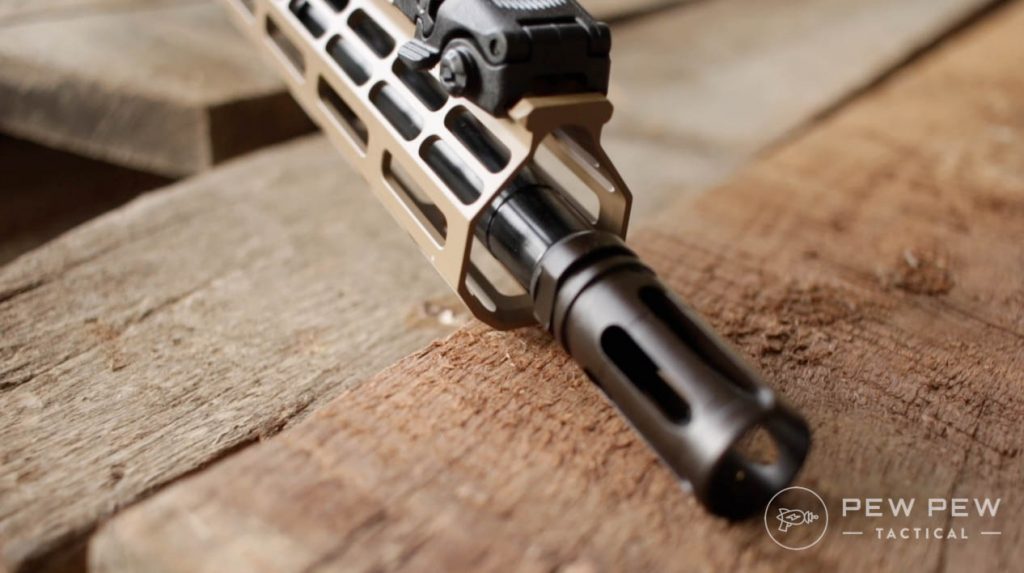 It's a nice touch, but I've already swapped one of mine out for the Surefire Warden Blast Diffuser.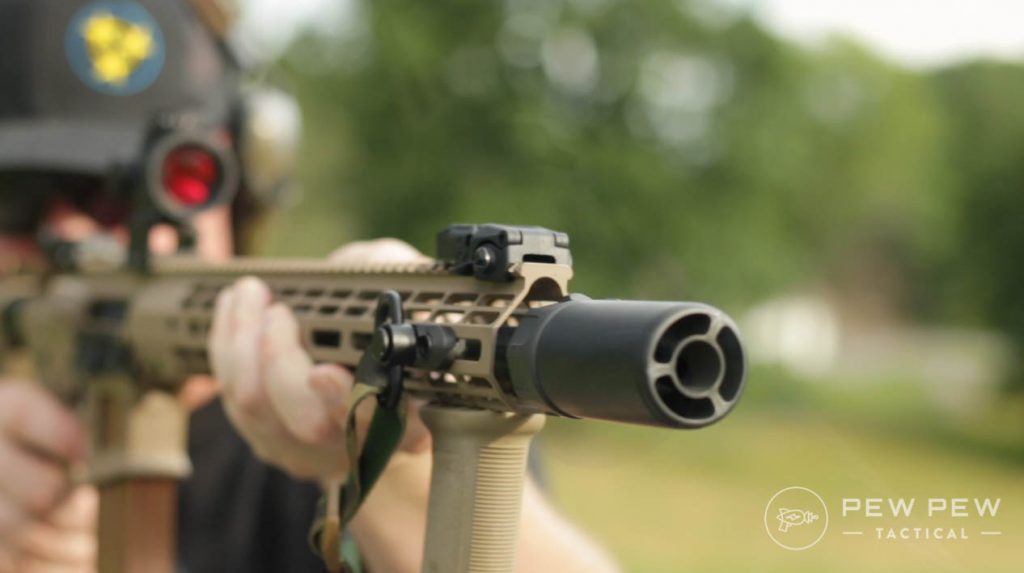 As far as aesthetics, both the upper and lower have Thunder Ranch logos on them, which I think look fantastic. The Cerakote finish on mine is gorgeous, and so far, it's been durable.
It ships in a cardboard box with Magpul Back-Up Sights.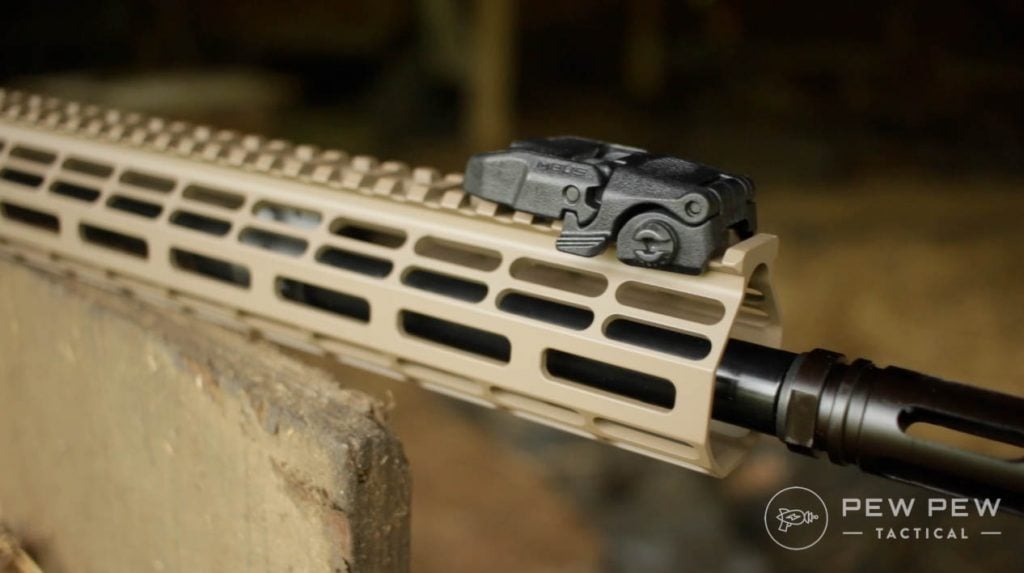 What Sets the TR15 Apart?
So, with the basics out of the way, let's talk about what makes the TR15 different.
First off, as you've likely noticed, there's no forward assist. The upper sports a slick side design, and that's per Clint's specs.
The thinking behind it: why would you want to jam something into the chamber that doesn't want to go there in the first place?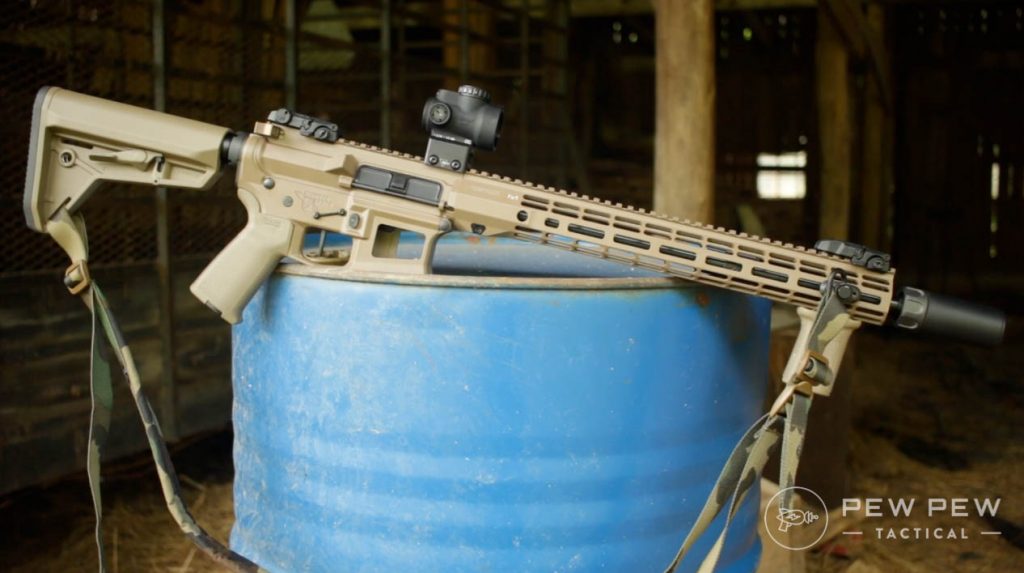 But y'all can argue forward assists in the comments below, or you know, head over to our article dedicated to forward assists and do your arguing there.
As for the lower, the mag well offers a flared design that makes it a little easier when changing mags.
There's also some skeletonizing on the well for clearing jams.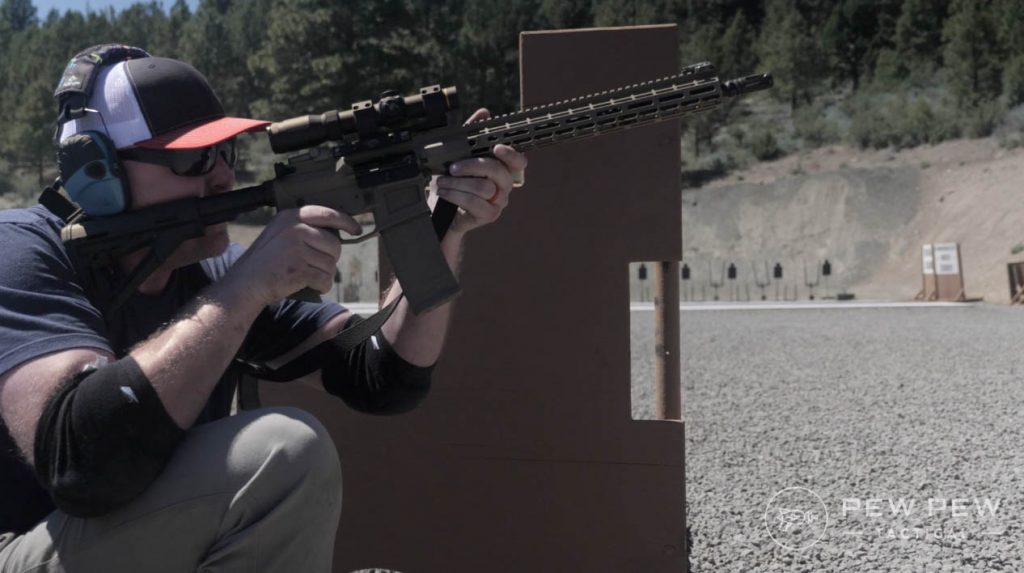 The trigger is the ALG Defense mil-spec trigger which works fine. However, on one of my TR15s, I installed a new trigger because that's what I do.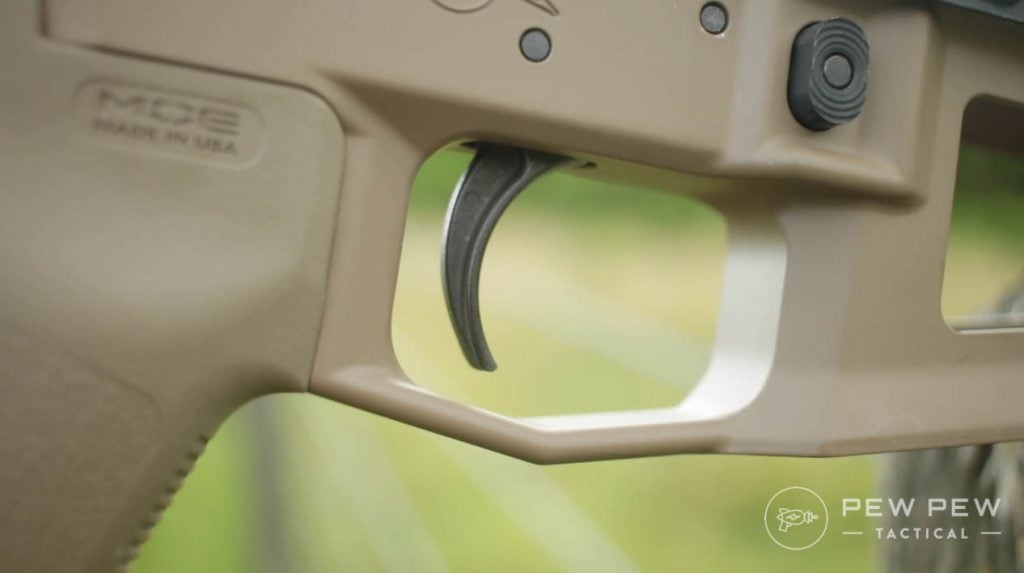 If you want to swap a trigger out, check out our recommendations for the ones you should try.
All in all, I like all the small touches — threaded roll pins, upgraded Magpul MOE furniture, great aesthetics, and a solid ALG trigger.
All these small things together make a solid, solid package.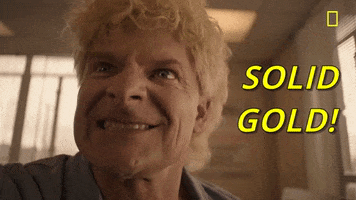 Range Time with the TR15
I spent time with the TR15 at Thunder Ranch last year and, of course, here at my home range in Tennessee.
At the Ranch, I used Fiocchi frangible ammo, but at my range, I used nothing but Russian steel-cased ammo.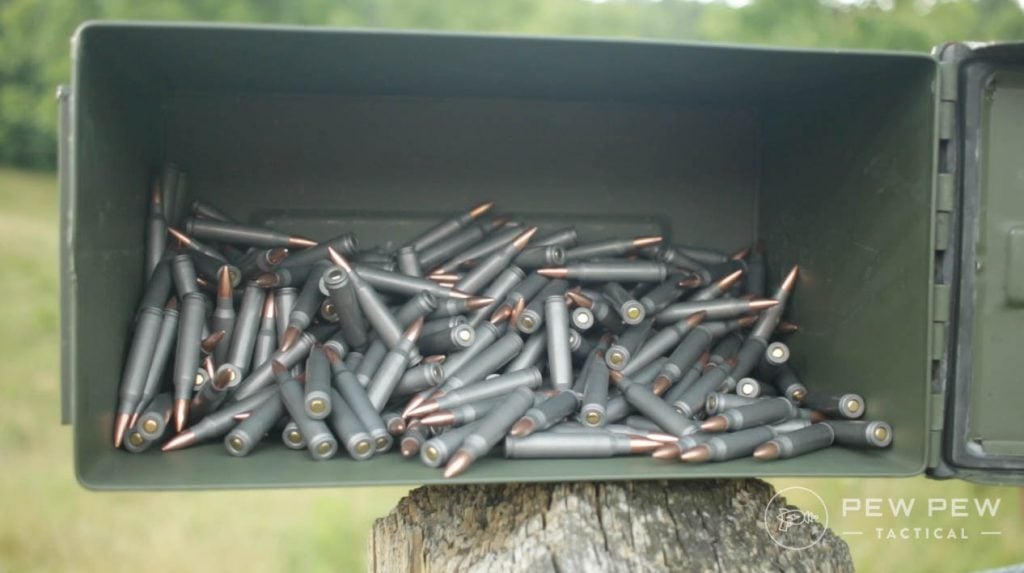 I also used every brand of magazine I could get my hands on, and I let 'er rip!
All told, I did a massive test. Four rifles, thousands of rounds in two states, and eight brands of magazines in dusty, nasty conditions.
I would say I've borderline abused these rifles.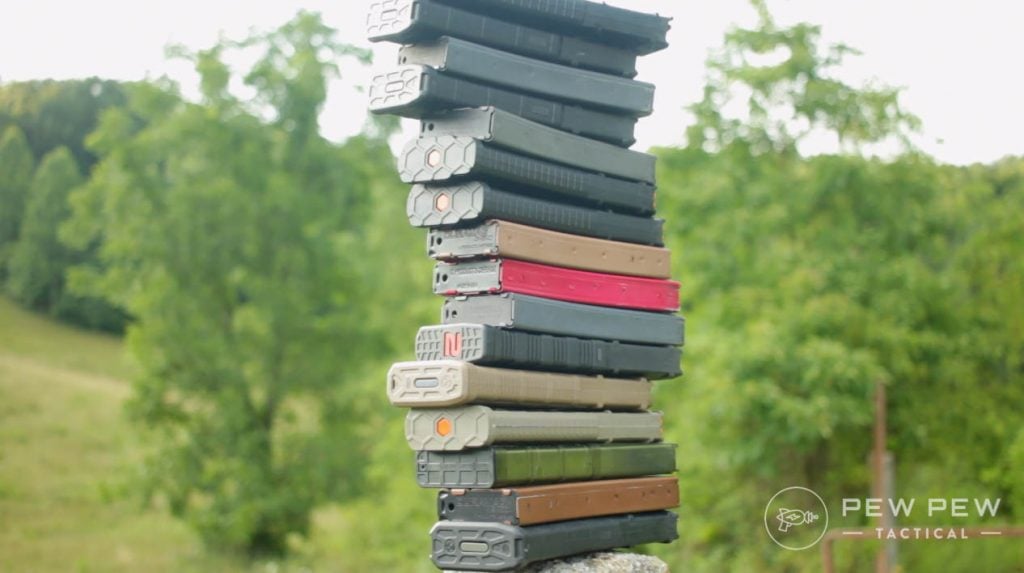 And….this is completely anticlimactic because I have almost NOTHING bad to report.
This rifle is a workhorse — no jams and no misfeeds. The TR15 loads, fires, ejects, locks back on empty, and is not picky on ammo or magazines.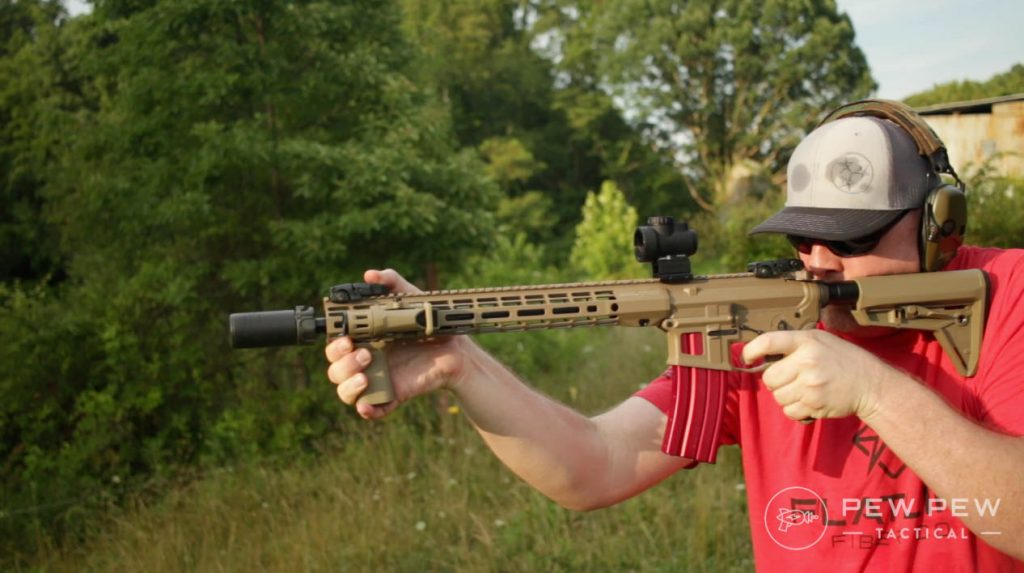 There's just not much here to tell you other than it runs.
In my experience with the 16-inch carbine, it is gassed perfectly, with the shells ejecting into a neat little pile consistently.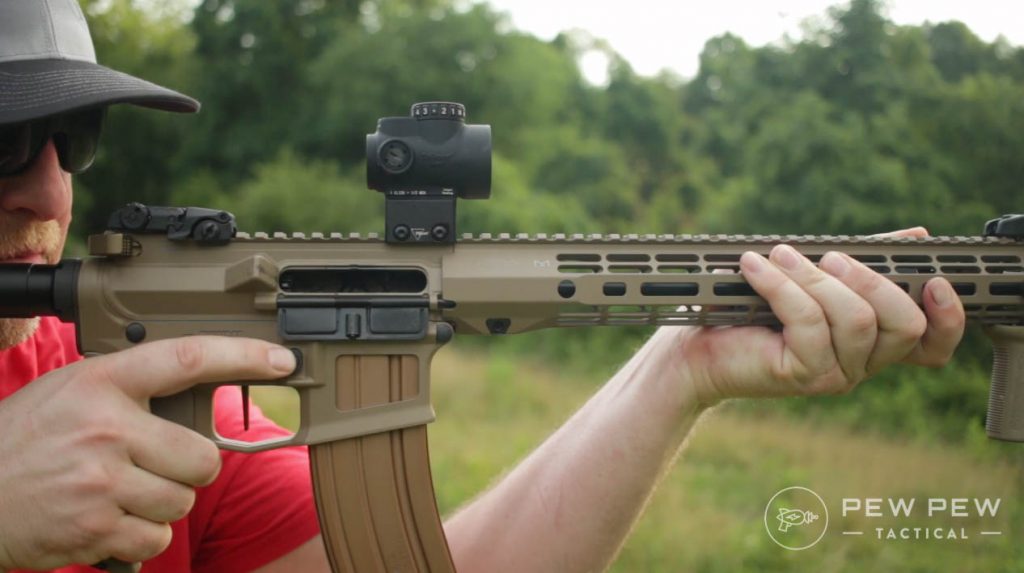 In my hands, it runs in the 1.5 to 2 MOA range consistently, and I pounded steel with it easily.
The complete uppers come with a full rail all the way down the top and sport Magpul sights. I topped mine off with a Trijicon MRO, which I love.
(Which we torture tested, by the way. So, check out that article.)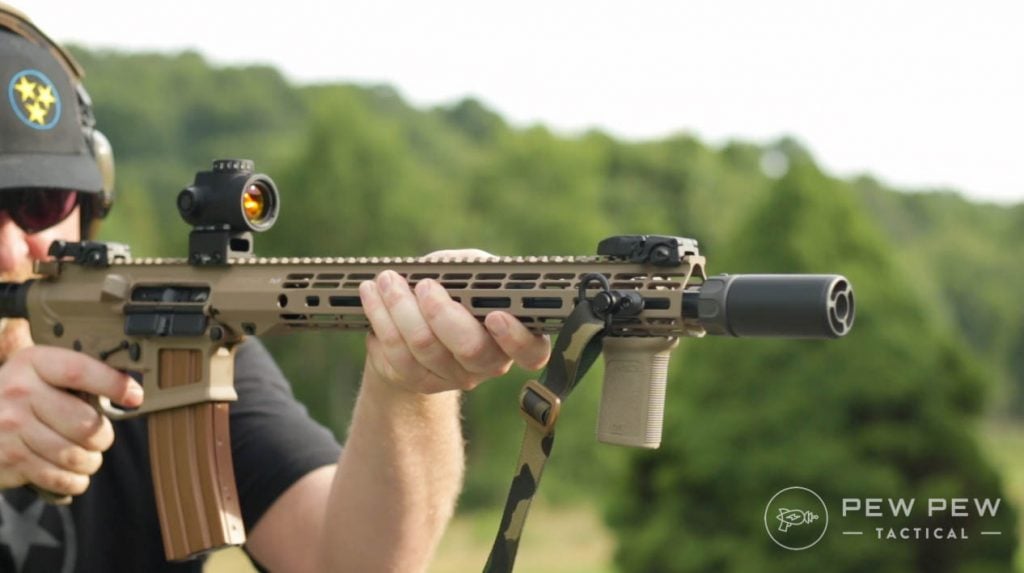 As far as shortcomings, I only have one major complaint. And that's aimed more at Aero than this particular rifle.
I just wish it came with a BCG and ambi charging handle. Just add it to the price if needed, but the way it is, I think a complete upper should be complete.
Other than that, it's solid.
By the Numbers
Reliability: 5/5
It RUNS. End of story.
Ergonomics: 4.5/5
Great furniture. Great handguard. I like it.
Accuracy: 4.5/5
A sniper rifle it ain't, but it'll put rounds where you want them.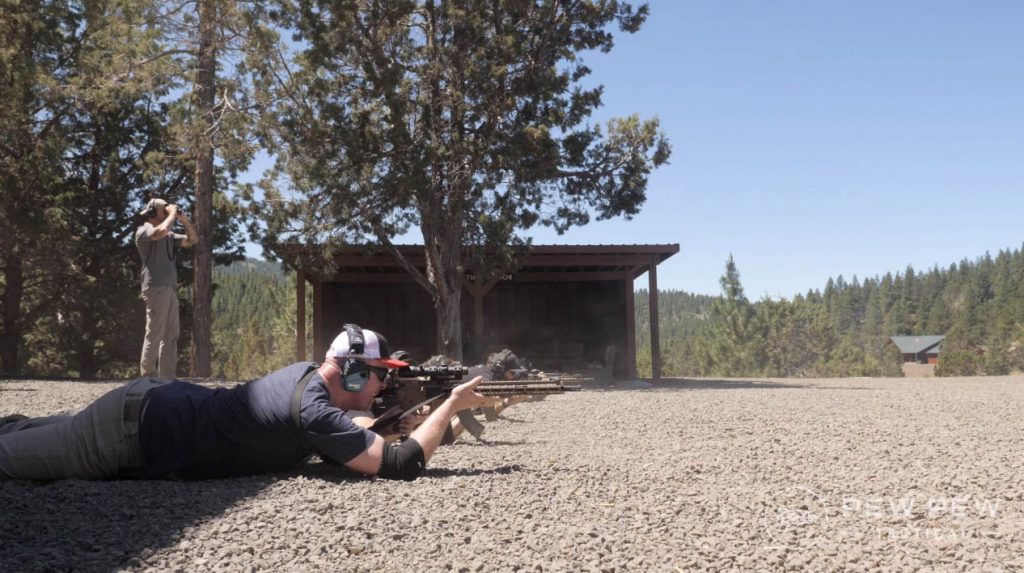 Customization: 5/5
Because it is all standard AR compatible, this number could actually be higher. Have yourself a good time.
Value: 4/5
Solid rifle. But after you buy it, you still have to buy more parts for it to run. Come on, man.
149
at Aero Precision
Prices accurate at time of writing
Prices accurate at time of writing
Overall: 4.5/5
Zero complaints. I ran four rifles into the ground, and they all did what I asked them to do. Everything you need. Nothing you don't.
Conclusion
Overall, I couldn't be happier with this rifle – obviously, I bought three and have no regrets.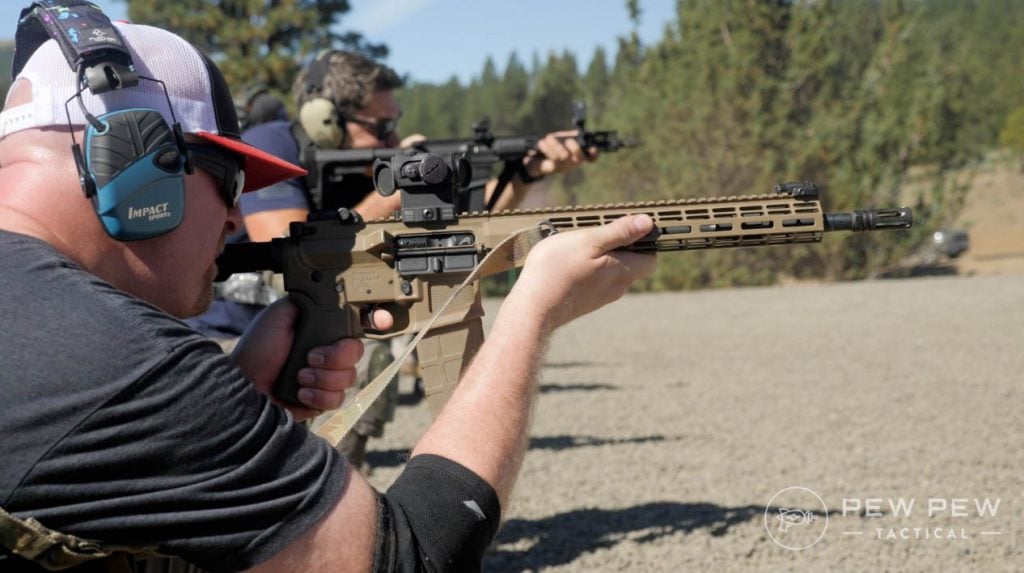 I think the word workhouse fits the TR15. It's rugged, runs, and has everything you need and nothing you don't.
The TR15 gets two huge thumbs up from me. I definitely recommend it. If you pick one up, I think you'll be happy.
149
at Aero Precision
Prices accurate at time of writing
Prices accurate at time of writing
Again, check out the TR15 in action in the video below.
What do you think of the TR15? Let us know in the comments below. If you're looking for more Aero rifles, check out the video and review we did on the Aero EPC.