Pistol caliber carbines are on the upswing, and it's no surprise.
These small but capable carbines are fun, lightweight, easy to wield, and, before the Great Ammo Shortage of 2020, less expensive to operate than standard AR-15s.
So, what happens when Aero Precision sends us their 9mm EPC to review…and we trick it out with some new parts and upgrades?
Well, you're about to find out.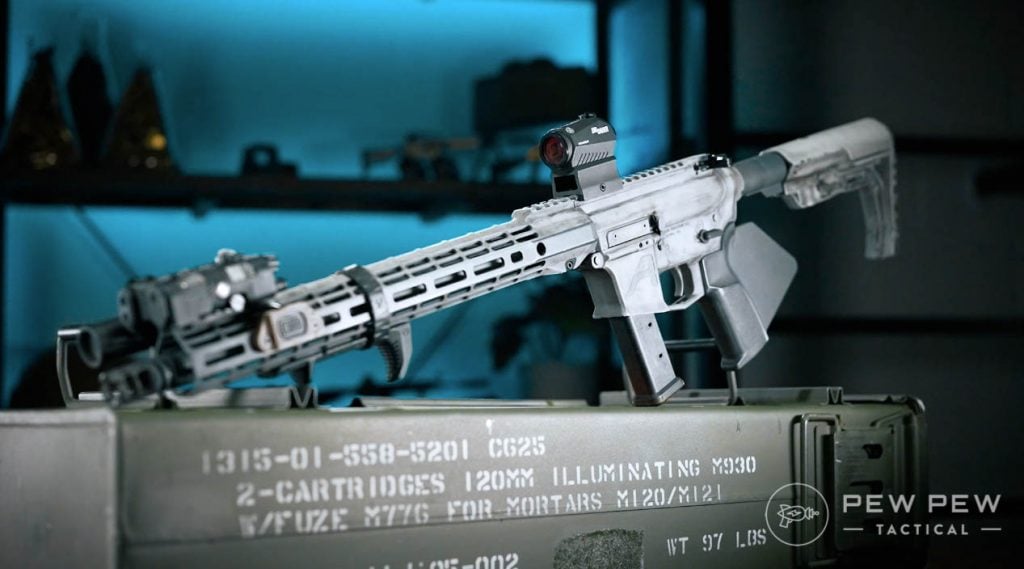 We hit the desert for some plinking fun with this 9mm PCC to see what we think after a day in the heat, sand, and sun.
Most importantly, we relay whether the EPC held up during our testing and if you should consider investing in one.
But first, if you prefer to see the action and not read about it, check out my full video review below.
And remember to check out Pew Pew Tactical on YouTube for more great gun stuff.
Table of Contents
Loading...
But First, What's a PCC?
A PCC tells you exactly what it is right in the name…a carbine chambered in a pistol cartridge. Easy peasy.
The main selling point comes down to ease of use as a pistol round running through a rifle makes for some real smooth shooting.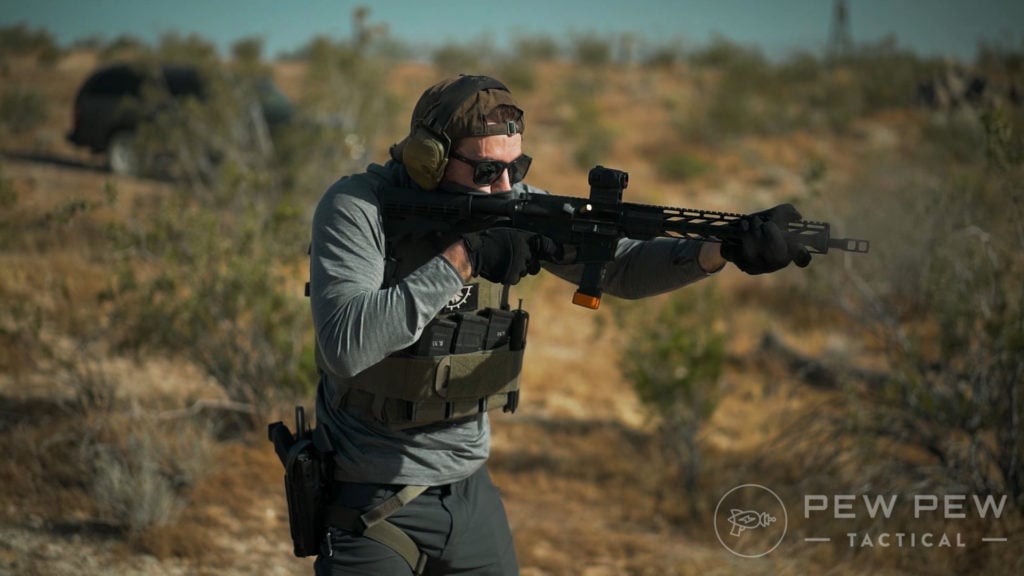 Add that third point of contact in the form of a stock, and these carbines are much more controllable than their pistol brethren.
PCCs are pretty flexible conceptually and can be great choices for competition shooting, home defense situations, truck gun setups, or even just a training supplement.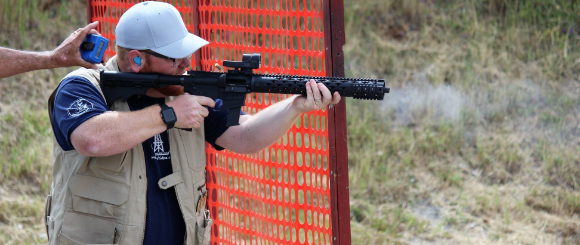 Enter the EPC
Aero Precision being Aero Precision, you'll find small features that set this AR-9 apart from the competition.
While not huge deals, these minor tweaks are nifty quality of life improvements.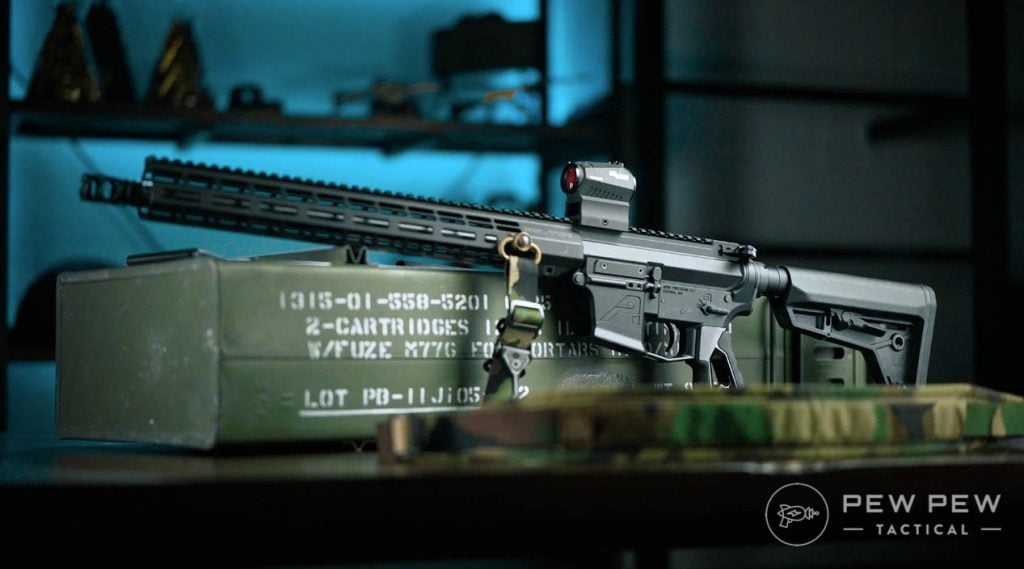 While I believe complete off-the-shelf Aero EPCs are available, I started from a stripped lower and went from there. So, keep that in mind.
But one of the cool things right off the bat — all the more proprietary bits and bobs are installed by Aero at the factory.
314
at Aero Precision
Prices accurate at time of writing
Prices accurate at time of writing
What does this mean for you?
Consumers get some unique approaches to certain elements on the upper and lower receivers.
But you — as the one putting everything together — are only responsible for the standard contents of an LPK. So the weirder stuff's already been done for you.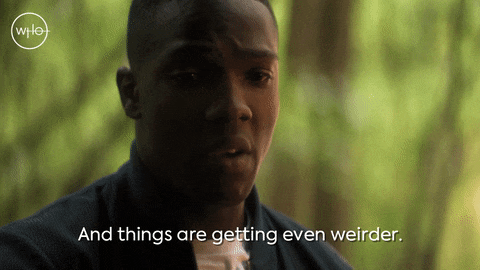 When I say small features, here's what I mean.
The lower receiver's got a threaded bolt catch paddle.
So, you won't run the risk of marring the receiver's finish with a hammer and pin as you might with a more standard pin setup.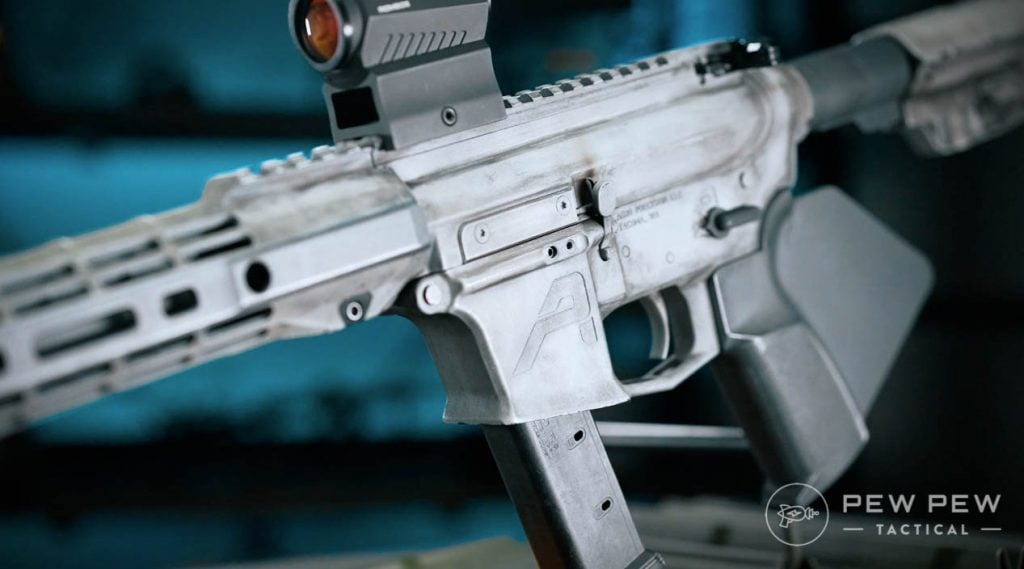 The upper receiver comes pre-installed with a plate setup that provides a last-round bolt hold open feature on an empty magazine.
That, my friends, is not as common in the world of direct blowback AR-9s as you might expect.
Your magazine well offers a decent-sized flair to it with a much larger margin of error for reloads than a standard, unflaired AR-9 magwell.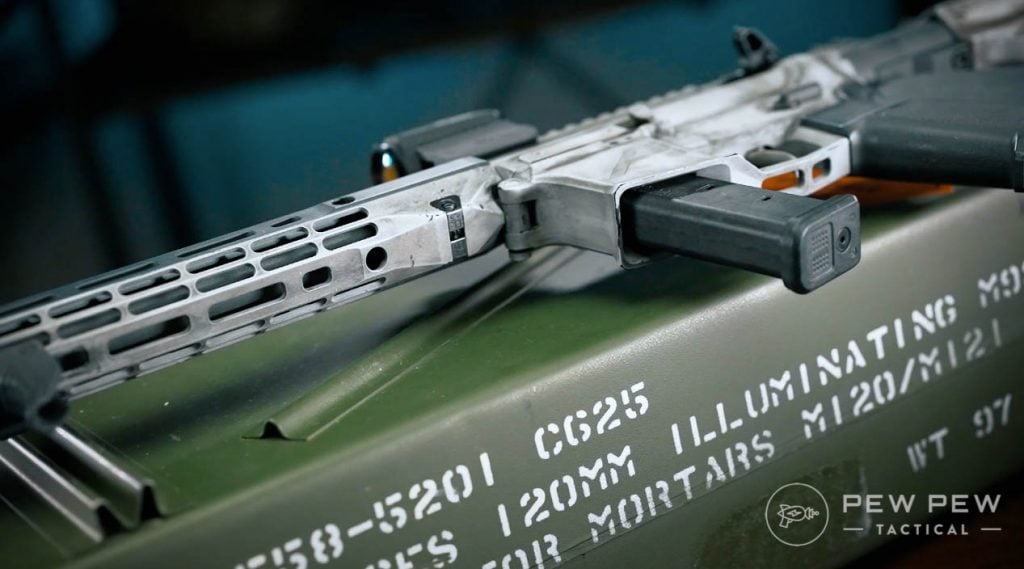 And the trigger guard itself is now simply a piece of the lower receiver that won't need to be installed separately.
Additionally, Aero's EPC-specific fire control group utilizes hardened trigger pins to help offset the wear and tear of a direct blowback system.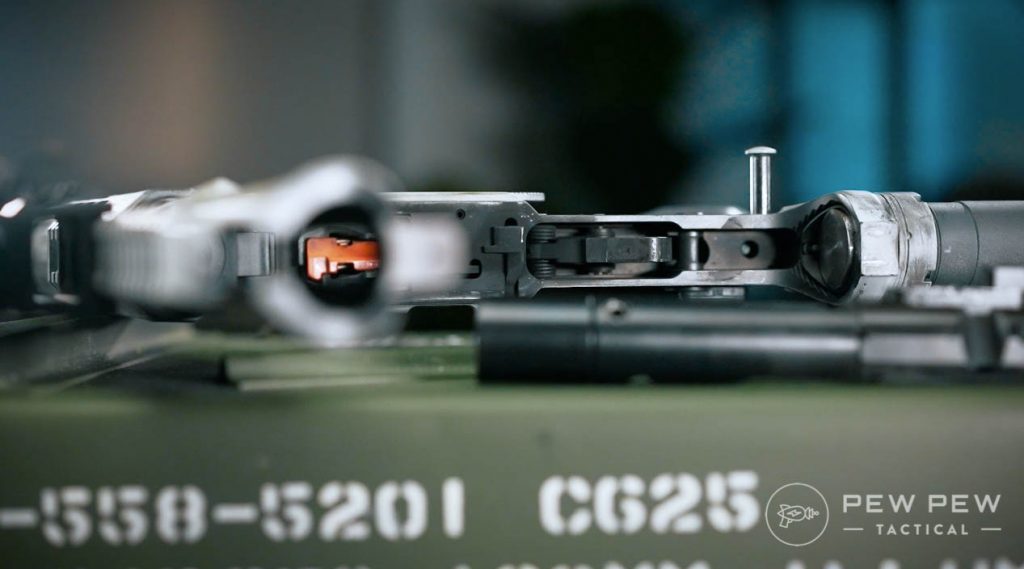 All of the above features are dope, don't get me wrong, but I hope you get what I mean about small quality of life improvements.
Let's Kick It Up a Notch: Upgrades
For the TL;DR version of the upgrades parts and accessories, peep the list below.
Obviously, I wanted to change a few things here and there. But before we get into my tweaks, let's look at the stock configuration.
We'll start up front where you've got a VG6 Gamma 9mm Muzzle Brake. This comes on Aero's own straight profile chrome moly vanadium 9mm EPC barrel, which sports a 1:10 twist.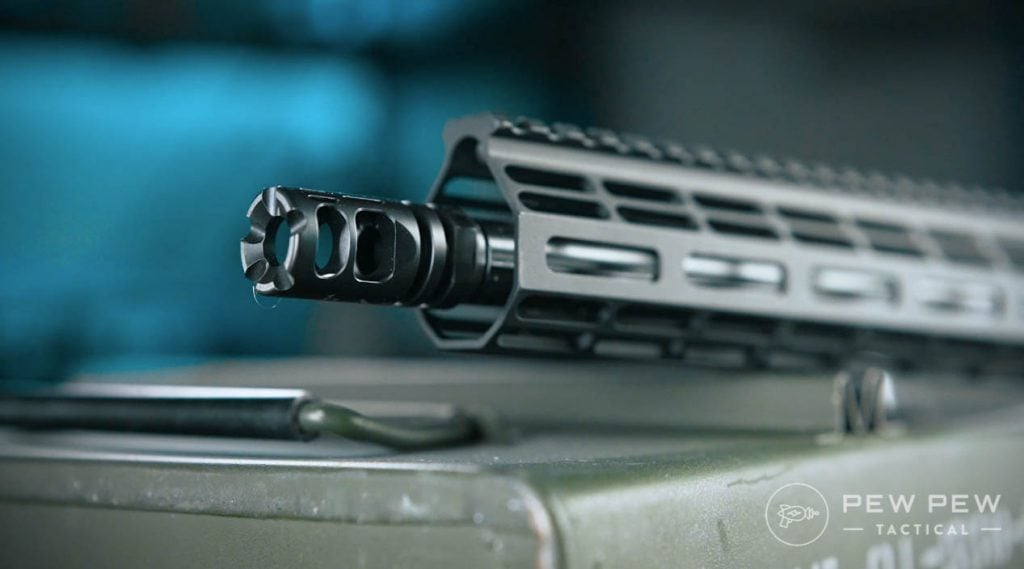 The barrel rides within a 15-inch Aero Atlas R-One M-LOK Handguard.
While the handguard works well, I don't prefer models with rails up top.
I just don't tend to mount a bunch of stuff between the barrel nut and front sight. But more on that topic in a minute.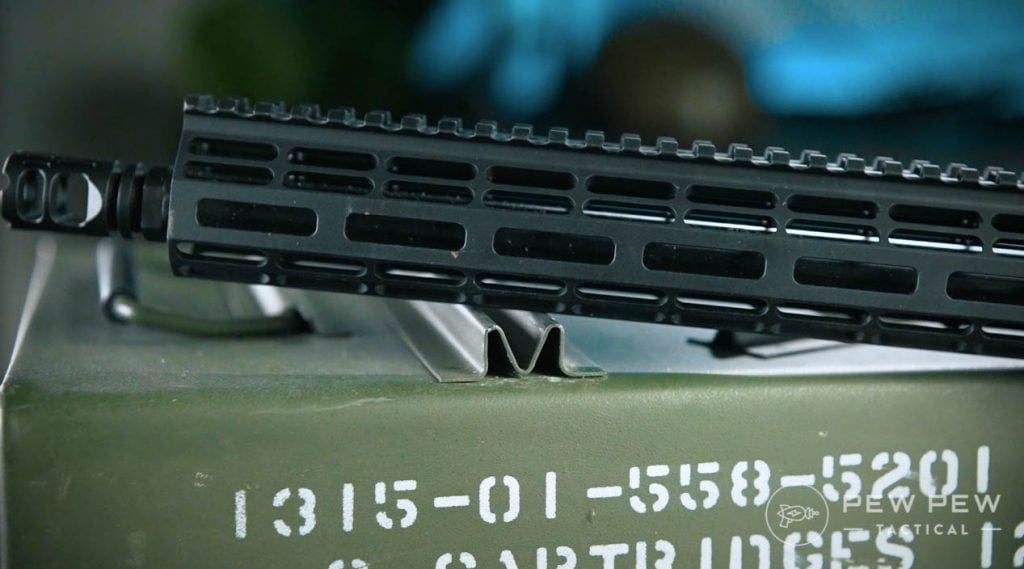 It just so happened we had an Atlas S-One lying around, so I swapped the handguards out for comparison.
The S-One ditches all the unnecessary Picatinny rail space up top. Instead, it gives you some ridges and hand holds for a more comfortable grip if you're prone to C-clamping.
123
at Brownells
Prices accurate at time of writing
Prices accurate at time of writing
Honestly, I think it both looks and feels much better than its railed alternative.
Caveat here is you lose the ability to mount pressure pads and such on top.
Even though they're vaguely M-LOK reminiscent, the lightening cuts at the 45-degree angles on the handguard, unfortunately, don't accept attachments…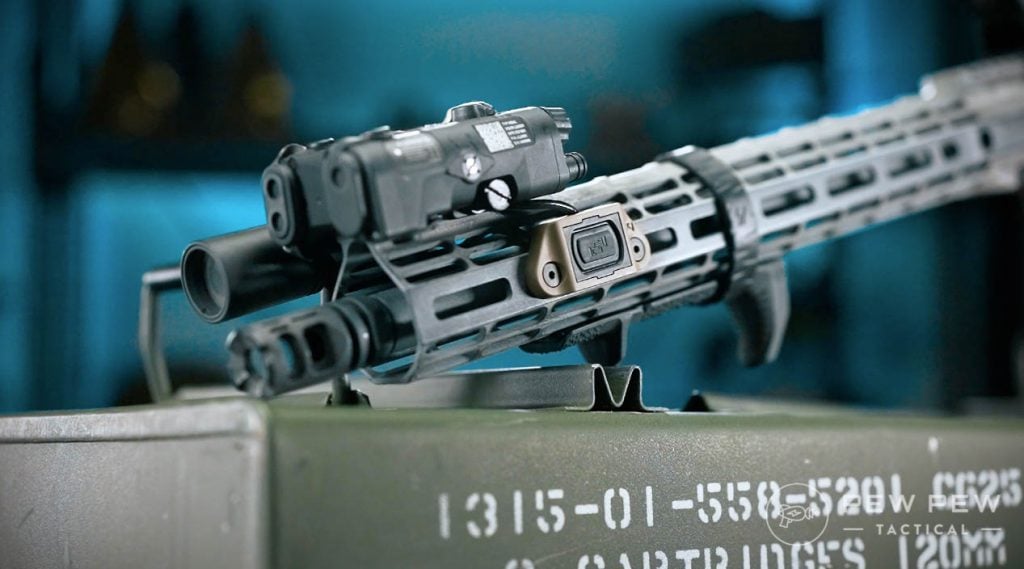 Which I only realized after the fact.
Also, a small shoutout for Aero's self-ratcheting screw handguard system locking mechanism thing. It makes swapping out handguards for painting a breeze.
The receiver I kinda covered a second ago, but another standout for me is the magazine release.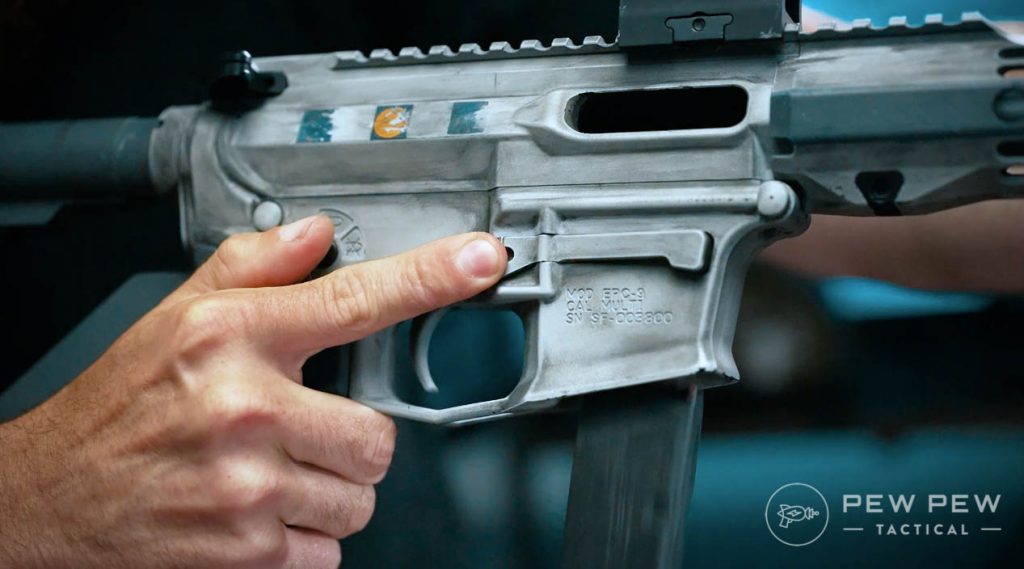 It brings a longer tab-looking thing that rocks back and forth by way of a pin connecting it to your lower.
This feels like it allows for much better leverage on the paddle portion than on a standard AR mag release. Basically, you're rolling the entire paddle around that pin to the rear rather than pushing directly inwards.
Mags drop free easily, and the paddle winds up in the natural resting place for your index finger when it's not inside the trigger guard. Thumbs up in my book.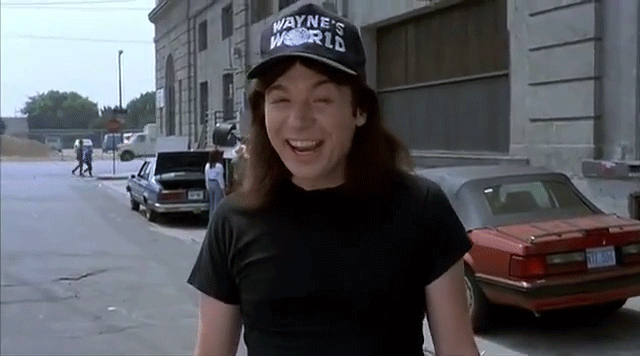 Finally, we've got a Strike Industries fin grip just aft of the mag release. And yes, go ahead and give me Hell in the comments. I'm used to it. #California
The grip does its job and feels okay. When you're used to fins you barely notice them at all.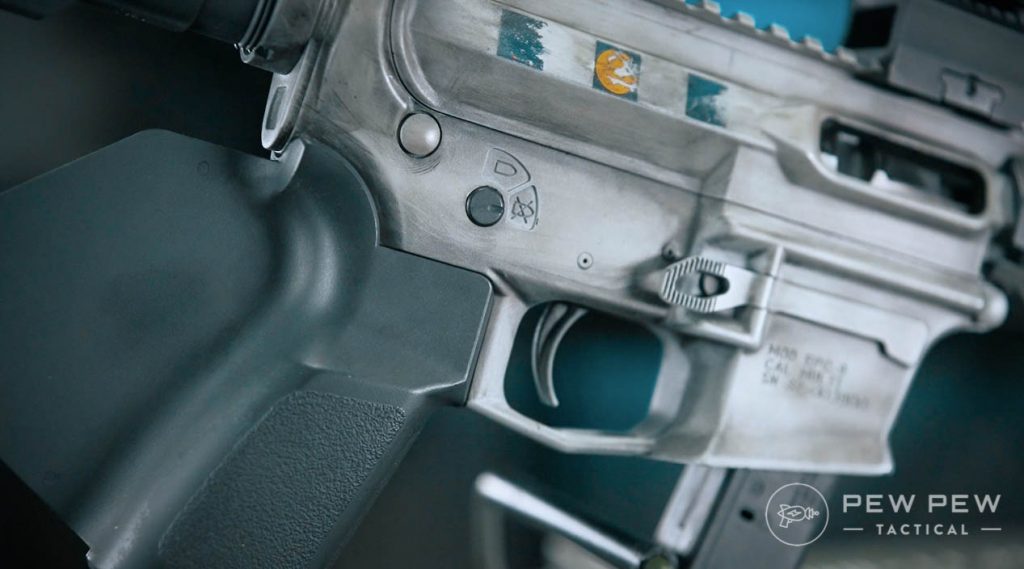 But if you're running a compliant setup, it just makes sense to invest in an ambi safety. I haven't quite done that yet, though.
I do appreciate that the lower offers some sleek fire selector indicators. These would look great with short-throw 45-degree levers…whenever I get around to doing that.
The stock Aero LPK trigger is actually pretty damn nice. It provides some real short takeup before a pretty obvious wall, a clean break, and a 'thunk' indicating a good reset.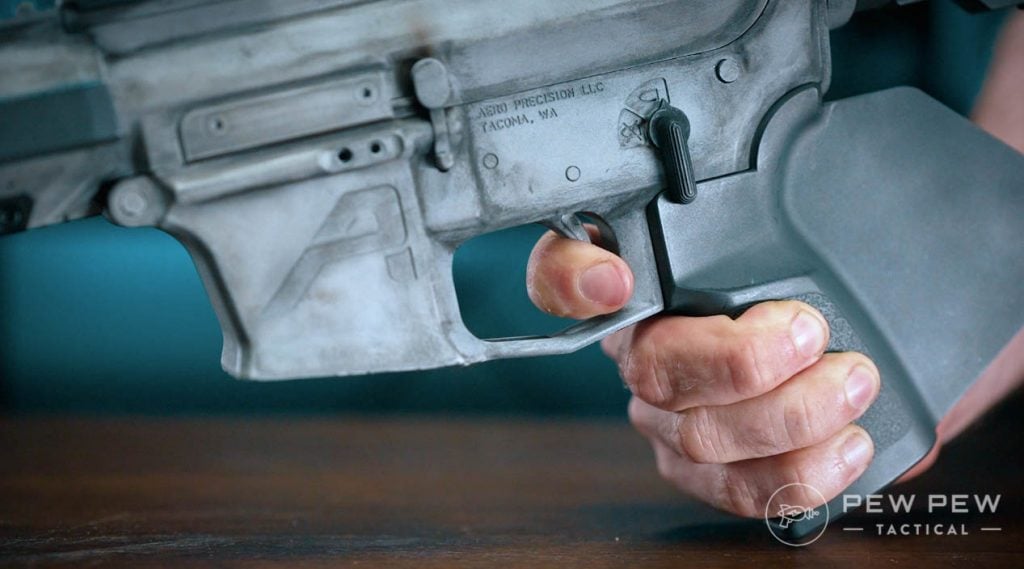 We tossed on one of Aero's oversized charging handles in the back.
The handle features some larger, angled grabby bits that offer an aggressive purchase on the charging handle while providing more material to drive to the rear to open the bolt.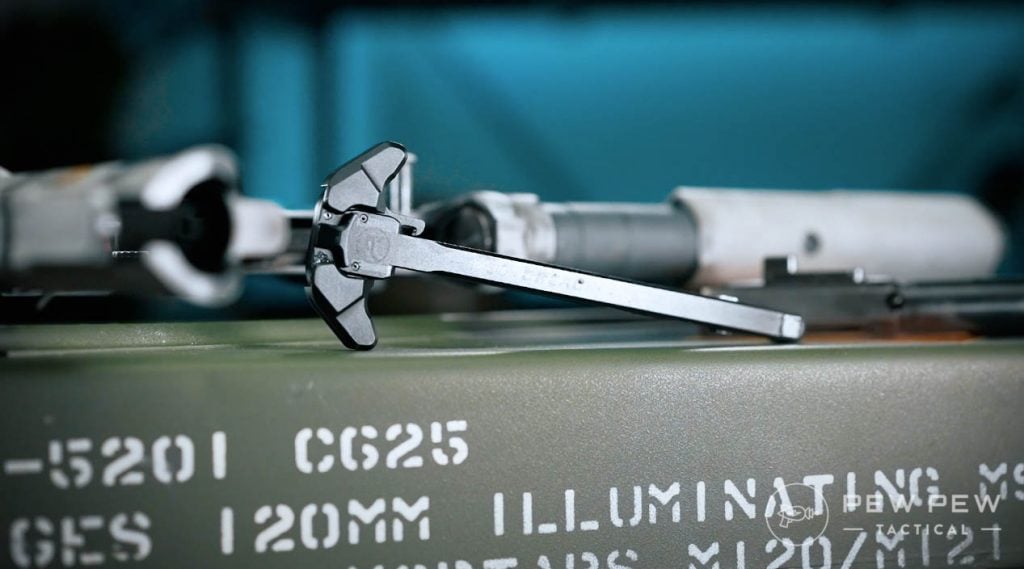 The entire kit shipped with a Magpul Carbine Stock.
No real complaints there, but I wanted something more minimalist.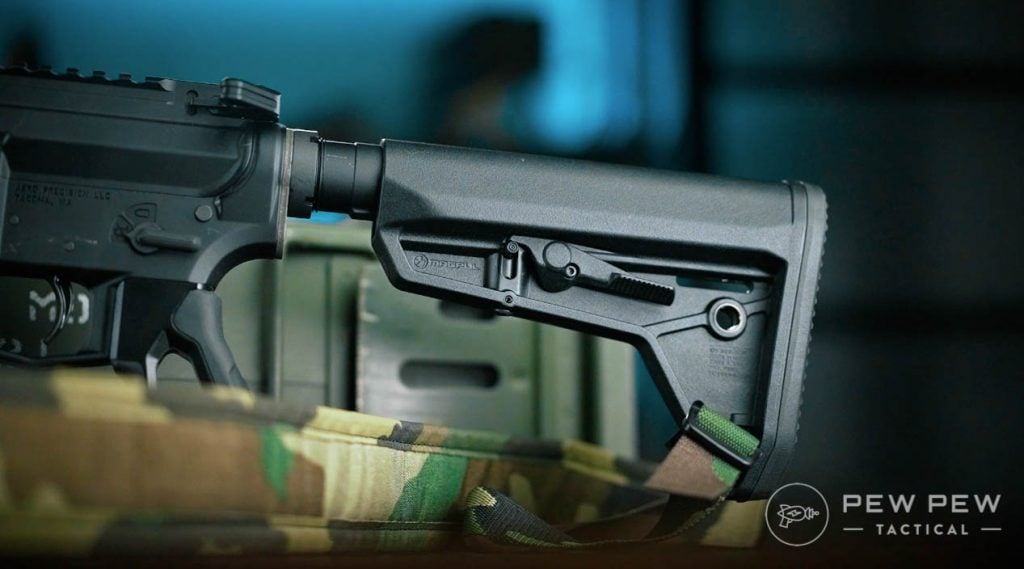 So, I replaced it with an MFT Battlelink Stock.
These apparently are out of production and took a minute to track down. In short, I was stoked to find one.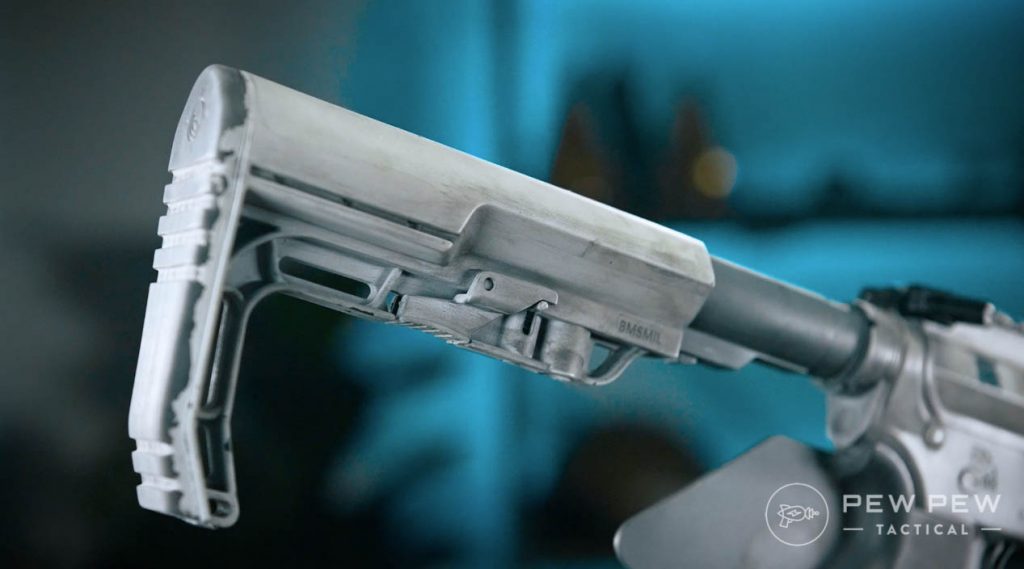 Lastly, the folks at Kynshot were nice enough to send us another drop-in hydraulic buffer to play with.
You might remember from the What Would Stoner Do Rifle Build, we were pretty big fans of this buffer.
We'll leave the science to the science wizards, but essentially, the Kynshot provides additional recoil reduction at the buffer's rearmost position of travel. And this takes the "sharpness" out of any felt recoil when firing.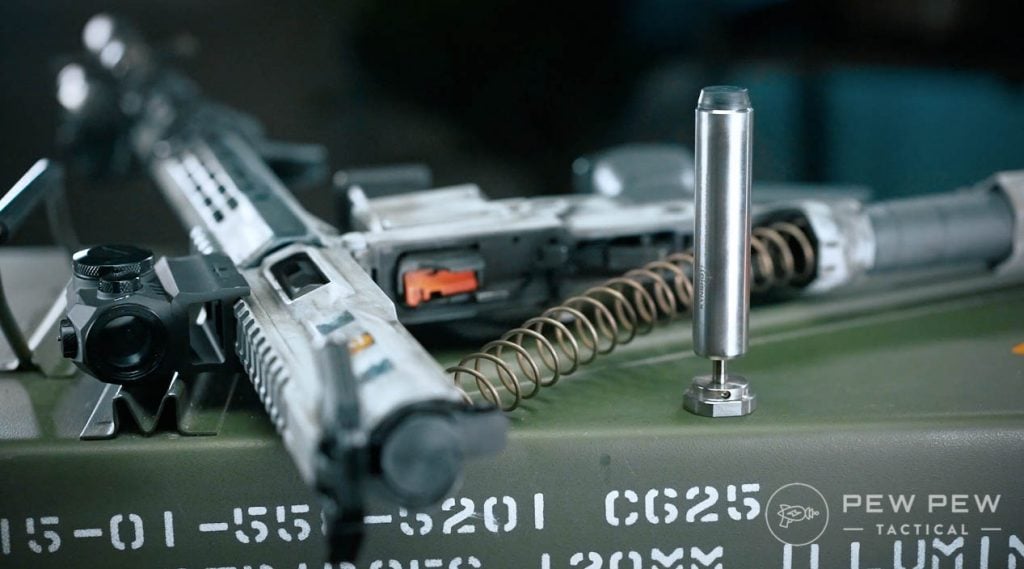 Ultimately this leaves you with a much smoother shooting experience overall, especially for the sometimes violent world of direct blowback guns.
Lights & Lasers
I went a slightly different route with my paint choices this time around.
With a very serious spray job on my normal AR, I figured let's get a little wackier with this one.
I've had a few cans of Montana 94 laying around from a previous project, so I put them to use — alternating shades where it felt aesthetically appropriate to do so.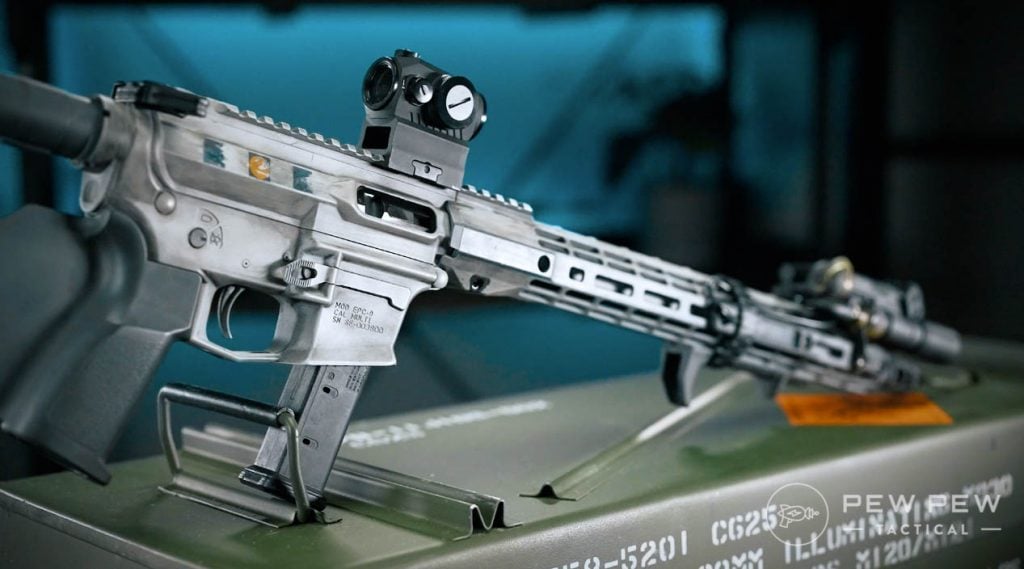 Then, I covered the entire thing in an artificial layer of simulated grime…because apparently my instinct is to produce guns that look like trash trucks from the future or whatever.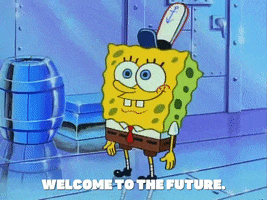 Additionally, I took a bit of a gamble with my laser choice; but it worked out pretty well.
While tracking down a Zenitco Perst 4, I ran across a company from Hong Kong producing clones of the NGAL or next-generation aiming laser. (The military's replacement for the PEQ15).
It sort of fit that low profile goal I wanted.
Enormous disclaimer here: this thing is not rated nor advertised as rated to stand up to actual recoil of any kind. It's just an expensive toy.
But that said, I've heard anecdotal reports of people running them on AR-15s with no problem. So for this project, I figured, why not?
Considering I now had a high-powered cat toy in the shape of an NGAL, it made sense to use that as an excuse to grab an Arisaka 300 Series Scout Light with a Malkoff E1HT Head.
I mounted this to an Arisaka M-LOK Offset Scout Mount to get the entire thing into my preferred 1 o'clock position on the handguard. The light's controlled by a Modlite Mod Button on an M-LOK mount.
Cable management is handled with some clever tucking and the addition of a Strike Industries Bang Band, keeping everything in place.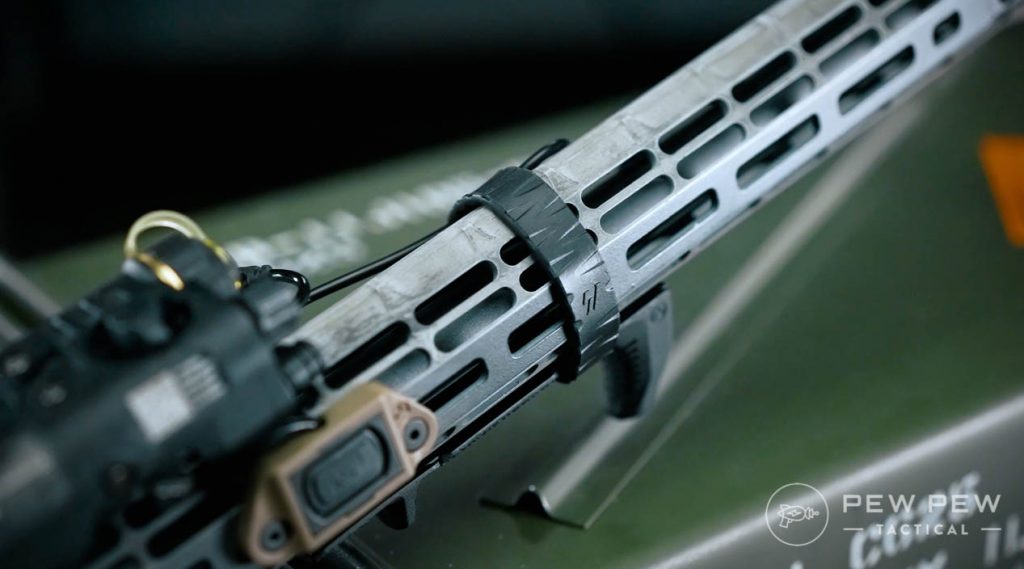 Lastly, I've got a Magpul M-LOK Handstop upfront because…creature of habit here. And I enjoy keeping my support hand setups similar between my different guns.
With all of that out of the way, off to the range we go!
Aero EPC on the Range
First impressions are something along the lines of "This thing shoots smooth!"
The combination of that VG6 brake and Kynshot Hydraulic Buffer makes for an incredibly pleasant experience.
While, yeah, it's 9mm, and PCC recoil is plenty manageable on its own, there's something special about controlled mag dumps with almost zero felt recoil.
Performance-wise, the Aero offers a nicer quality PCC that runs pretty damn well and puts your lead where it needs to go.
We didn't bother papering the gun because the idea of shooting 9mm groups seems a bit silly. But, we had no issues running our pistol rack or punching out to slightly further steel targets.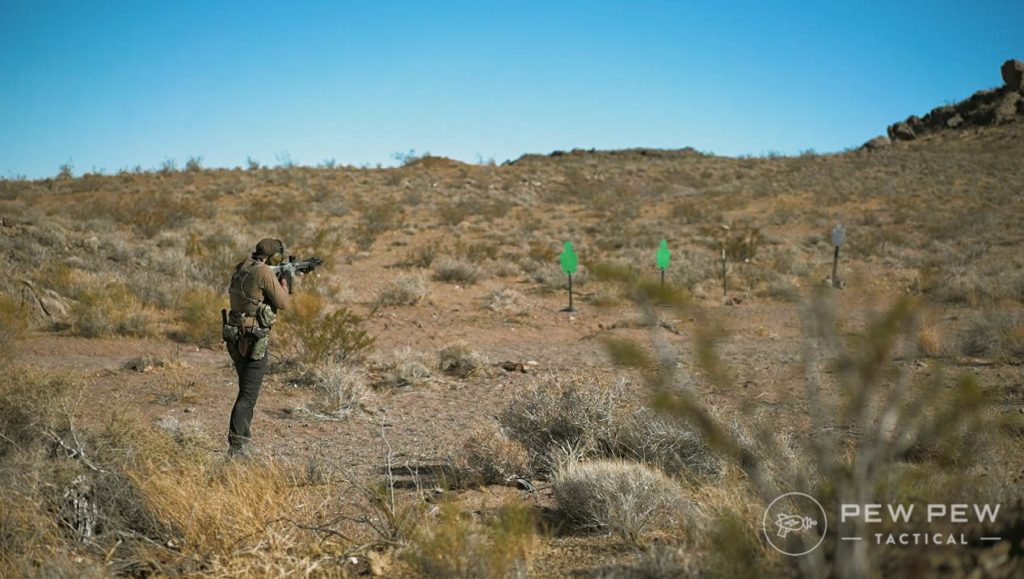 Reloads feel smooth with the assistance of that flared magazine well. And, yep, that bolt hold open feature works quite well.
But there is one minor thing caused by the interplay between the Kynshot Buffer and the bolt hold open. It can be a bit obnoxious to get the bolt locked open manually.
You're essentially working against that beefier hydraulic buffer weight to get the bolt far enough back to engage.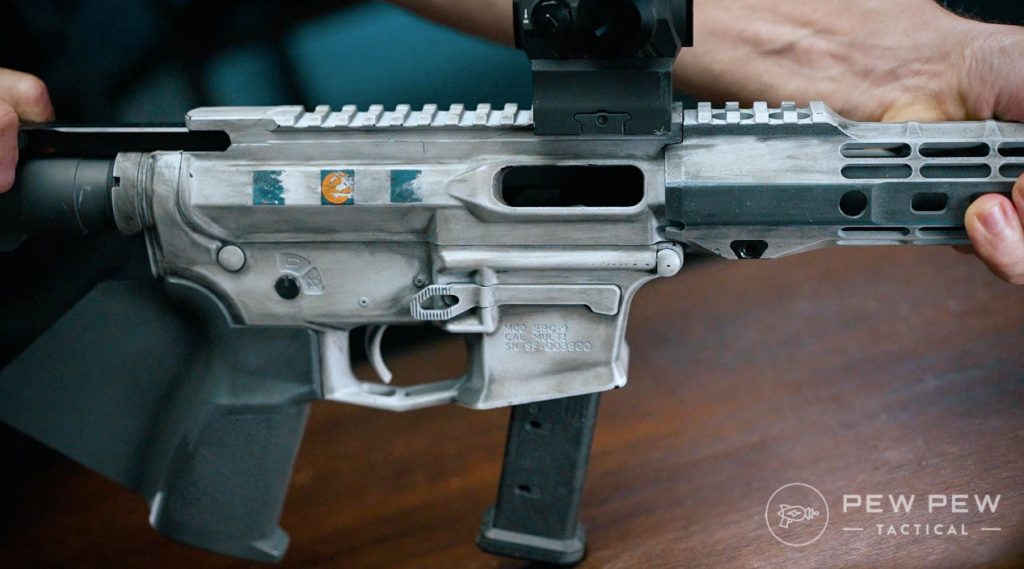 Not a huge issue, but it meant the flared arms on our oversized charging handle, and the additional leverage they provide came in handy.
We did experience a failure to feed wherein it appeared that our cartridge smashed up against the feed ramp with such force that it jammed the projectile down into the casing itself….which is kind of wild.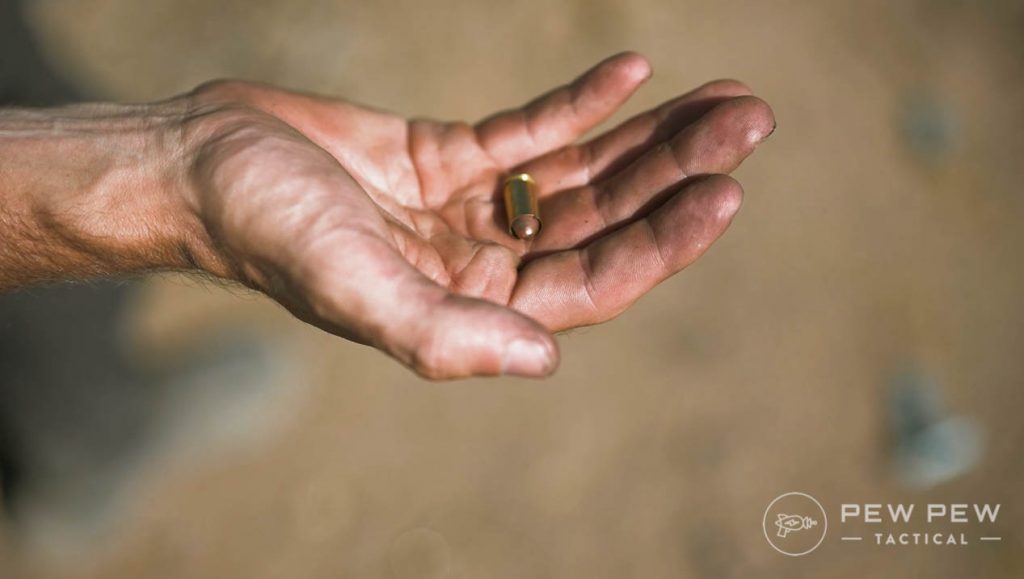 There didn't appear to be anything specific that caused this, and it occurred probably two or three times in about ~600 rounds total.
It, unfortunately, remains a mystery that could be anything from a bad batch of ammo, mag problems, or even issues with our hydraulic buffer.
We're not entirely sure, so just be aware that it occurred. It also underscores the fact that it's always a good idea to inspect rounds that failed to feed for damage — lest you wind upcycling a damaged cartridge back through the gun to less stellar results.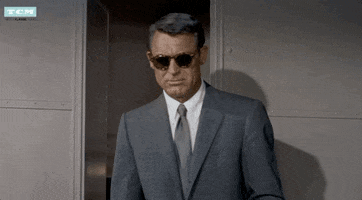 Working on Those Night Moves
Considering I threw down some dough for silly nighttime gadgets, we stayed out in the desert on a gorgeous night to get the laser unit dialed in.
This, of all places, is where the Aero EPC shined for me.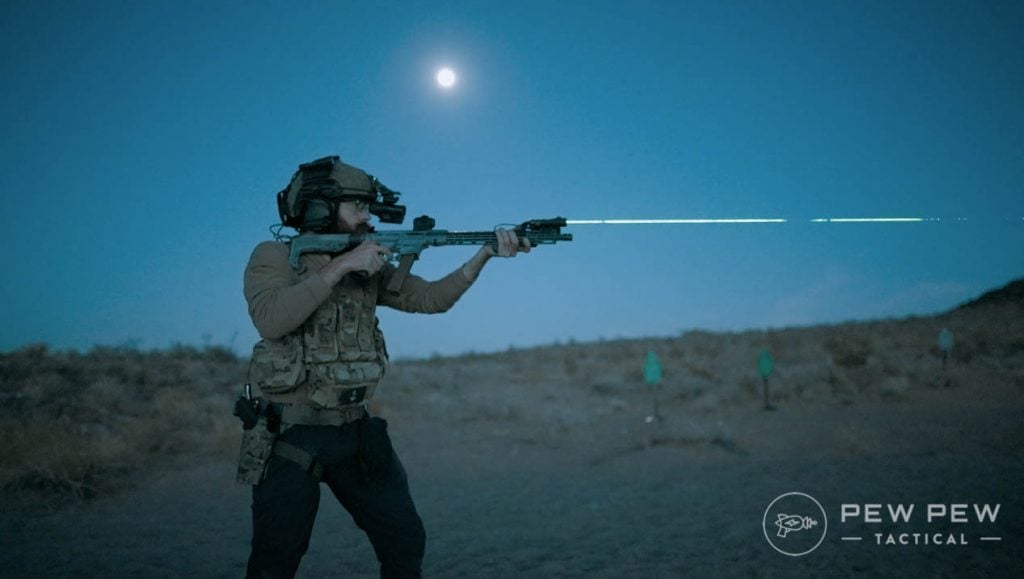 I went in with no real expectations that the NGAL would work.
However, while waiting for the sun to go down, I took the time to get the unit's visible laser zeroed to the Sig Romeo Red Dot, giving me a ~50 yard impromptu minute of bad guy zero.
Though the NGAL's IR flood is pretty wacky, the lasers worked pretty well.
Point shooting the EPC in the dark with the NGAL was probably a highlight of the day for me.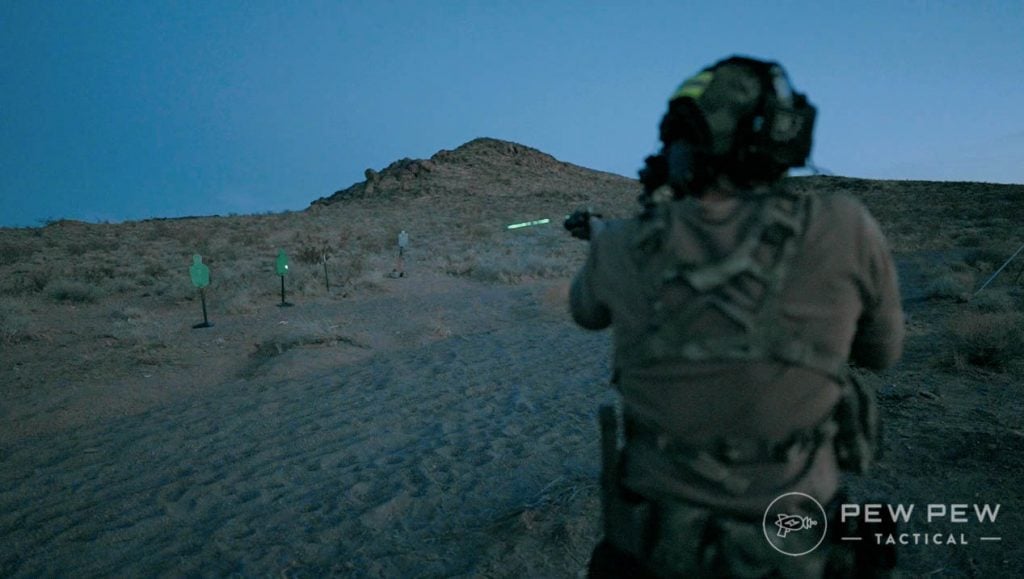 That said, I've got some kinks to iron out with the illumination setup. The Malkoff Head is only rated to about 300 lumens.
It's supposed to have a pretty absurd 23,000 candela's worth of throw on the target.
In theory, that means it should outclass most Surefire Scout lights in illumination on the target at 100-yards.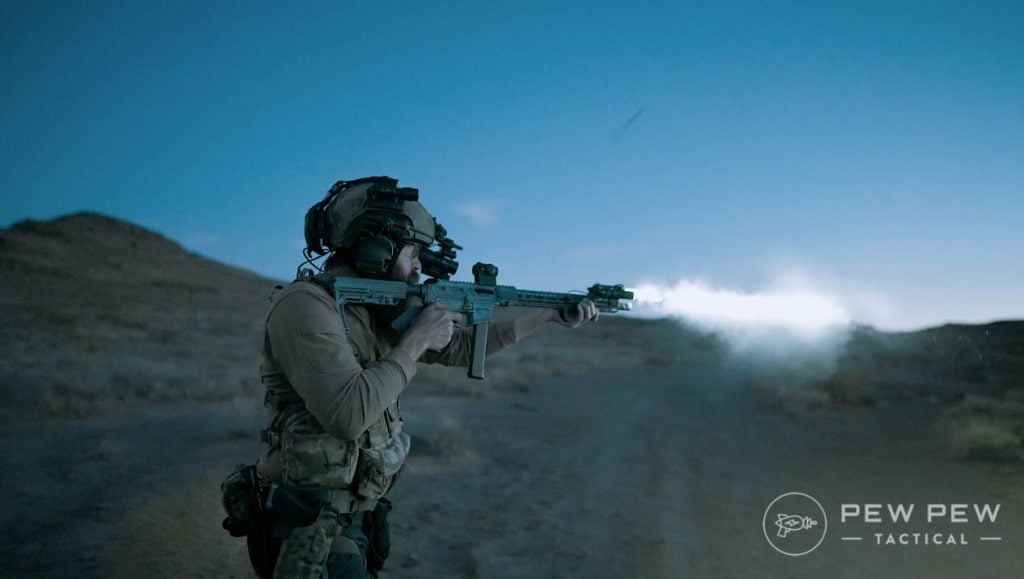 Given what this gun is, that seemed like a perfect choice. But, alas, I think something funky is going on with my tail cap, as actual illumination was surprisingly subpar.
This is just a completely random Surefire-style cap that may have manifested itself in my gear locker. (I don't actually remember ever purchasing one like this.)
It could be that the unit requires an actual Surefire tail cap to function properly, but I'll have to sort all of that out in the future.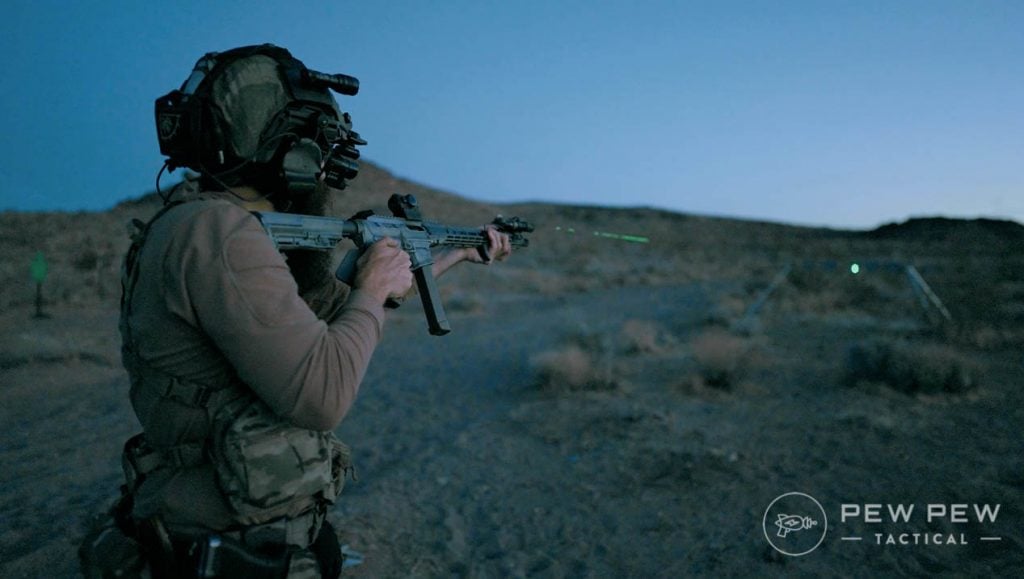 By the Numbers
Reliability: 4/5
The bolt can be tough to lock open manually, and we did experience a weird failure to feed. Will you see the same things? Hard to tell. We swapped out some parts that could be causing these issues for us.
Ergonomics: 4/5
The stock configuration felt a tad bulky to me, but that's the beauty of an AR-9. You don't have to keep it this way. That said, as-is, the EPC is a solid PCC that feels great to shoot.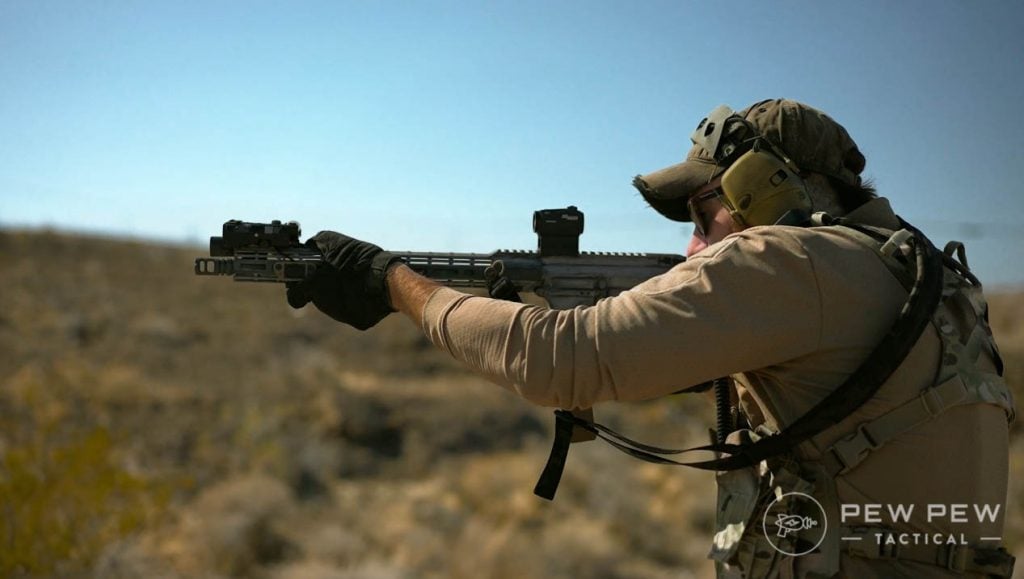 We've also built ourselves a new shorty 8.3″ barrel and it's the perfect size for having enough rail real estate while remaining balanced and super maneuverable.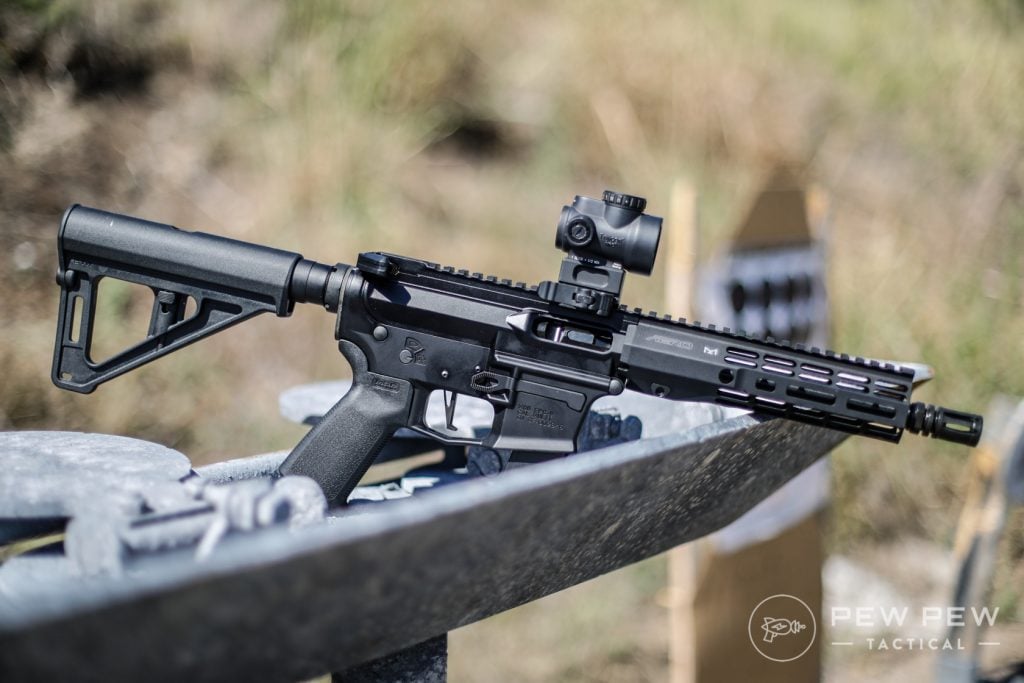 Accuracy: 5/5
We landed shots on both paper and steel targets at a variety of distances. No issues here.
Customization: 5/5
AR-style rifles are like Legos for adults. The options are limitless so long as you have the time and money to trick out your gun as you want.
Value: 4/5
Lower and Upper Sets start at $314 so it's priced reasonably for those wanting to enter the PCC realm.
314
at Aero Precision
Prices accurate at time of writing
Prices accurate at time of writing
Overall: 4.5/5
If you're already in the market for a PCC for home defense or plinking, it makes sense to check out the EPC.
Conclusion
I had a blast with the Aero EPC, even if obviously a good chunk of that fun was related to tricking it out, painting it, and mounting dubious laser units to it.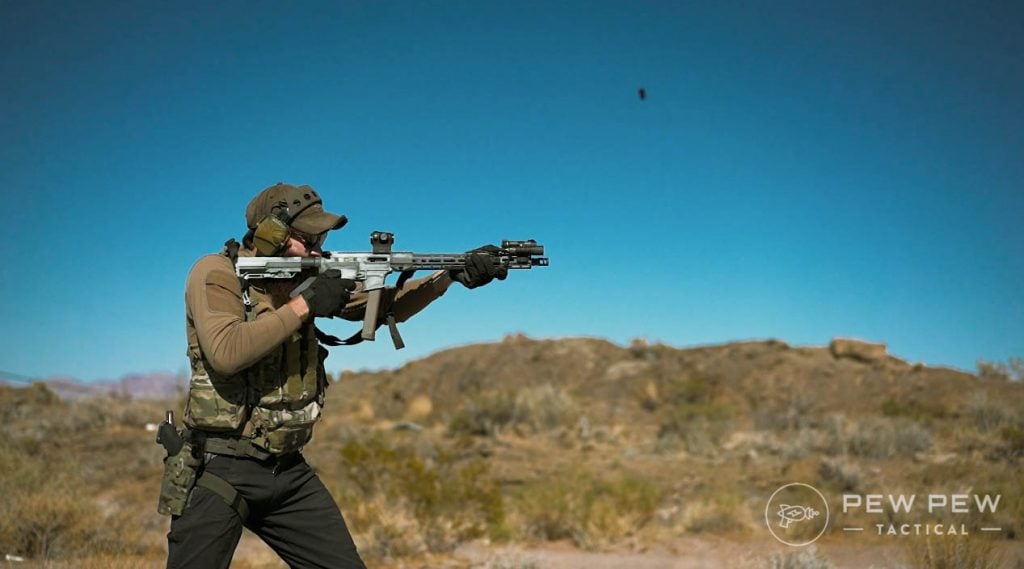 Though we did see one minor issue, I can't entirely lay the blame at the feet of the carbine. We swapped enough parts that could very well be related to that and have nothing to do with the PCC itself.
All in all, the Aero EPC offers a reasonably priced, solid, 9mm AR-9 perfect for those looking for a home defense gun or a fun range plinker.
314
at Aero Precision
Prices accurate at time of writing
Prices accurate at time of writing
Again, see the Aero EPC in action in the full video review below.
What do you think of the Aero Precision EPC? Let us know in the comments below. Not feeling the Aero? Check out our list of the Best PCCs 9mm & Beyond or get inspiration for your build in our Build Section.